Tsurumi launches multiple dirty water pumps
By Helen Wright25 September 2014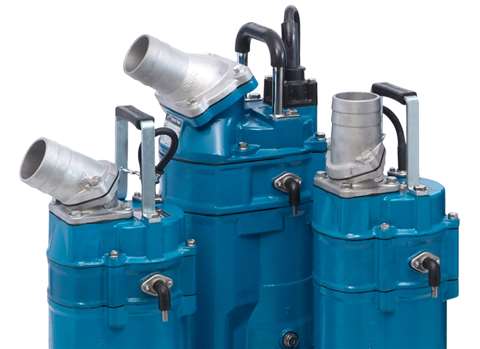 Japanese pump manufacturer Tsurumi has introduced a number of drainage pumps to the European market this year including a new level sensor KTZE pumps as well as the GPN415 (15kW motor) and GPN 622 (22kW motor) sand pumps.
Tsurumi said the new drainage KTZE pumps were based on its existing KTZ range and were available in seven variants from 1.5 to 3.7 kW. It said the pumps, depending on the model 430 to 1440 l / min, created a maximum lifting head of 36.5 m.
It said the discharge of the pump could be adjusted either horizontally or vertically, and could be left unattended.
The pump starts when the sensor identified the correct water level and stopped as soon as the water level drops below a certain point. Users could manually adjust the level required in order to maintain the amount of water desired.
Other new pumps from the company included a new KTD range – agitator versions of its cast-iron KTZ series – as well as the new LH4110W pump from its LH-W range and a GSZ-75-4L pump from its GSZ range.
The LH4110W high head submersible pump was said to feature the largest pumping head in the Tsurumi Europe range and can pump water up to a maximum head of 218 m. It had a maximum capacity of 2 m3/min and an output of 110 kW.
Meanwhile, the GSZ-75-4L submersible dewatering pump was said to feature the biggest pumping capacity in Tsurumi Europe's range with the maximum volume of 17.6 m3/min, a delivery head of 38 m and 75 kW output.