TTS Group to be acquired by Palfinger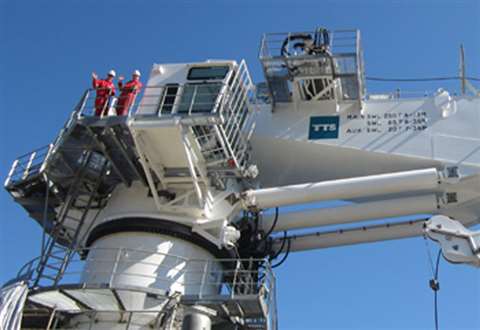 Palfinger has announced its intention to acquire Norwegian marine crane and equipment manufacturer TTS Group. The Austrian crane, aerial platform and materials handling equipment manufacturer will do the deal via its subsidiary Palfinger Marine. Palfinger Marine manufactures cranes and other equipment for marine applications.
Palfinger's cash offer for 100 % of the shares will be NOK 5.60 (US$ 0.67) per share. That values the company at around NOK 600 million ($ 72.5 million). The TTS board of directors has agreed to recommend its shareholders accept the offer.
Herbert Ortner, Palfinger CEO, commented on the potential transaction, "Together with the acquisition of Harding, this acquisition would place Palfinger Marine among the global top three ship equipment suppliers. In the future, we want to be a one-stop shop, internationally offering all maritime customer industries competitive products and services. With a staff of approximately 3,000 employees in 22 countries and revenue of more than €600 million, Palfinger Marine would contribute around one-third to the revenue of the Palfinger Group from 2017 onwards, hence becoming the Palfinger Group's strong second mainstay."
TTS Group, based in Bergen, operates worldwide mostly in the oil and gas industry. Among other things, it makes active heave compensated, heavy lift, cargo and other cranes and winches.
Toril Eidesvik, TTS Group CEO, said, "TTS has clear ambition to grow through the development of a wider range of products and product packages within the deck- and cargo handling equipment to the various vessel segments. Joining Palfinger Marine, and potentially also Harding, will give large synergies and create a solid platform for the planned growth."
Assuming approvals are granted by all relevant parties Palfinger expects the deal to happen in three to six months, in the fourth quarter of 2016.