Tunnel chosen ahead of bridge for Germany/Denmark link
By Helen Wright02 February 2011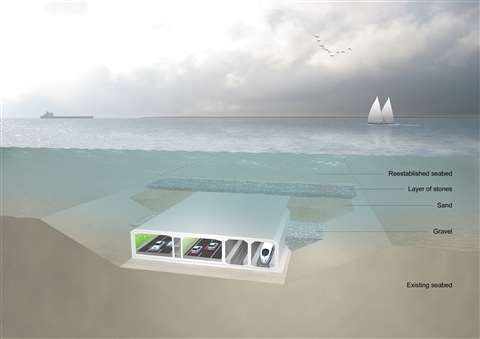 Danish politicians have opted to build an 18 km immersed tube tunnel under the Fehmarn Belt between the Danish and German coast after deciding against original plans for a bridge.
The € 5,1 billion project is state-funded. The planning phase is being undertaken by Femern A/S, a special vehicle set up by Sund and Bælt Holding A/S, which is 100% owned by the Danish Transport Ministry.
And in July 2009, the European Commission approved € 194 million in public sector funding for the planning phase of the fixed link.
Initial designs were for a cable-stayed bridge, but after reviewing plans for both options at the end of 2010, the authorities have decided that the tunnel represents the fewest risks both in terms of safety and environmental impact.
Femern said its preliminary environmental investigations showed that an immersed tunnel would have the least permanent environmental effects. The cost of the bridge would also have been slightly higher, at € 5,2 billion.
The company said it would now prepare an environmental impact statement for consideration by Danish and German authorities, while a bill authorising construction is expected to be put before the Danish parliament in 2013.
The tunnel will be made up of 89 sections and contain a four-lane motorway and a double-track railway. Construction is expected to commence in 2014, while tunnel opening is scheduled for 2020.
Although Germany and Denmark share a land border, the new link is expected to lead to a significant reduction in travel times between key cities.