Tunnel visions
By Mike Hayes11 March 2019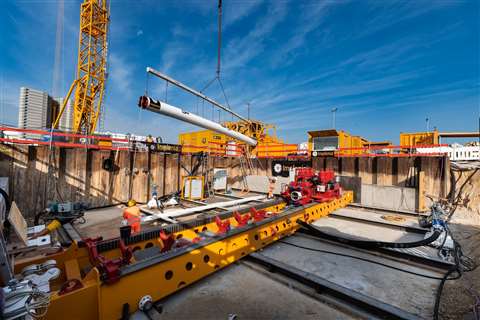 German tunnelling specialist Herrenknecht said it would be using Bauma to show "where the journey of tunnelling can go with high-tech".
Under the theme of the future of tunnels, the company will be presenting "visionary urban planning" in Paris, plus current and future tunnel projects, as well as "ground-breaking" technology innovations.
It said it would show how partners in mechanised tunnelling could move forward together safely, quickly and reliably.
In four exhibition areas, visitors will be able to talk to Herrenknecht about how it is opening up new underground terrain and making it usable. At the outside booth, the technology will be shown live.
Herrenknecht's E-Power Pipe, a trenchless method for the economic and environmentally-friendly installation of underground cables, is a finalist in the Bauma Innovation Awards.
E-Power Pipe is a new method of quickly and securely installing small-diameter cable protection pipes underground over distances of more than 1km.
The company said that at the heart of the system is a fully remote-controlled tunnel boring machine, which has an excavation diameter of 505mm. The machine is said to be able to keep to the planned alignment with precision, and therefore can cross under existing infrastructures such as pipelines, roads, railways or smaller bodies of water.
The tunnelling machine is equipped with a jet pump and an integrated hydraulic power unit.