TVH to handle parts for Zoomlion
Zoomlion has appointed TVH as its official distributor for parts across Europe. 
Parts specialist TVH will provide the full range of Zoomlion MEWP spare parts and accessories across Europe, includiing Turkey, said the manufacturer, with responsibility for service and sales to end users and rental companies.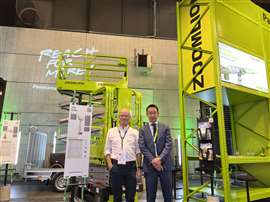 Jason Liu Liu, Zoomlion Access global sales and marketing director and Kristof Bolle, TVH's chief commercial officer for spare parts signed the agreement at the Matexpo 2023 exhibition in Belgium. 
"We are excited to announce this cooperation between Zoomlion and TVH," said Liu. "Zoomlion MEWPs have been delivered across the globe in the last two years, especially in Europe where orders have been pouring in, for both our products and spare parts." 
Liu added, "We believe this partnership with TVH will further contribute to Zoomlion service in the region. Our customers can find parts quickly and accurately by reaching TVH's closest distribution centres and experts."
Bolle said he was delighted to welcome Zoomlion to TVH's portfolio. "Zoomlion's rapid growing status in the access industry aligns with our commitment to not only expanding our range of spare parts but also delivering excellence to our valued customers. We are confident that this partnership will lead to mutual growth and success for both parties."