Two leading U.S. construction-economy indicators just abruptly turned south
By Larry Stewart28 November 2022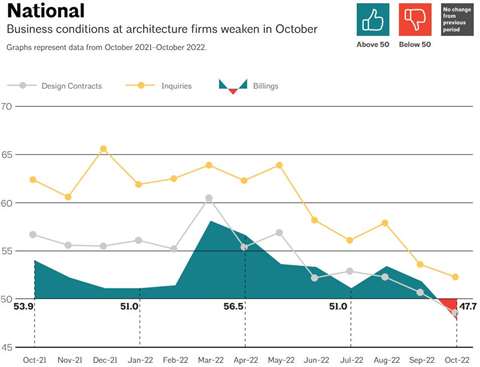 The solid footing the U.S. construction economy has enjoyed through all the recession talk of the past six months just gave a noticeable shake. Growth in construction spending has wobbled a bit at a high level, but the pipeline of new projects – measured by contractor backlogs and architecture billings – had scarcely wavered, until October.
Billings at architecture firms softened abruptly in October with an Architecture Billings Index (the ABI is derived from a monthly member survey of the American Institute of Architects) score of 47.7, as firms reported the first billings decline since January 2021. Readings less than 50 indicate contraction. The ABI is widely regarded as an indicator of construction activity 12 months into the future.
One month is not a trend, but October offered warnings from the contractor end of the construction business, too.
Nonresidential contractors responding to the Associated Builders and Contractors' Construction Backlog Indicator survey in October indicated that their average backlog declined to 8.8 months.
Not all doom and gloom
After surpassing its pre-pandemic level in September, U.S. contractor backlog is now below the reading observed in February 2020. The commercial and institutional segment posted its largest monthly decline since July 2020 and is now 0.4 months below pre-pandemic levels. But the overall reading is 0.7 months better than in October 2021.
"While the industry continues to gain strength from significant funding for public work, pandemic-induced behavioral shifts – including remote work and online business meetings as well as surging borrowing costs – are translating into meaningful declines in backlog in commercial and institutional segments."
ABC's Construction Confidence Index – a measure of contractor sentiment conducted in parallel with the backlog indicator – for sales increased in October, while the indices for profit margins and staffing fell. All three confidence measures remain above the threshold of 50, indicating expectations of growth over the next six months.
The American architects' survey showed inquiries into new projects continuing to grow at a modest pace in October, but the value of new design contracts also declined as fewer new projects entered the pipeline.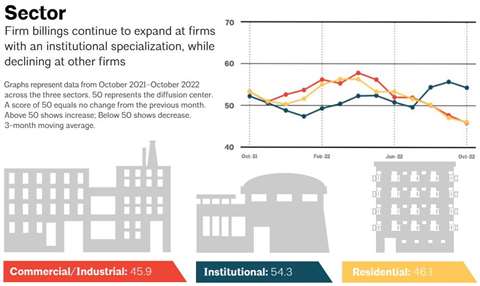 "Economic headwinds have been steadily mounting, and finally led to weakening demand for new projects," said AIA Chief Economist Kermit Baker, Hon. AIA, PhD. "Firm backlogs are healthy and will hopefully provide healthy levels of design activity against fewer new projects entering the pipeline should this weakness persist."
Architecture firms with multifamily residential and commercial/industrial specializations saw more significant declines in billings in October, following a gradual softening during the third quarter. Firms with an institutional specialization, on the other hand, saw fairly strong growth, which is typical for this point in the business cycle. Multifamily residential and commercial/industrial projects are usual first to rebound following a recession and as they start to slow, institutional projects pick up steam.
Broader economy also moderating
Conditions in the broader economy also moderated in October. Total nonfarm payroll employment added 261,000 new positions, well below this year's annual monthly average of 407,000 so far. The torrid pace of inflation relaxed, as the Consumer Price Index (CPI) rose by just 0.4% compared to September levels and 7.7% compared to a year ago. It was the lowest annual growth rate seen since February. Core goods inflation declined by 0.4%, while core services inflation rose by 0.5%.
"Due to this modest deceleration in inflation, the Federal Reserve may make a smaller increase to interest rates at their December meeting than the 0.75 point increases they have made at their most recent meetings," said Baker. "However, with inflation still well above their target of 2%, they are likely to continue raising rates until at least mid-2023."
The ABC's Basu said, "With borrowing costs likely to increase during the coming months and materials prices set to remain elevated, industry momentum could easily downshift further in 2023. "But it is also conceivable that certain economists are overly pessimistic. There is still underlying momentum in the U.S. economy, and some believe that near-term recession is not inevitable. Contractor survey data indicate that while backlog declined in October, it remains reasonably healthy. Moreover, the average contractor continues to expect sales, staffing and margins to grow over the next six months. Time will tell whether this lingering optimism is justified."