UK equipment sales in decline
By Mike Hayes05 November 2019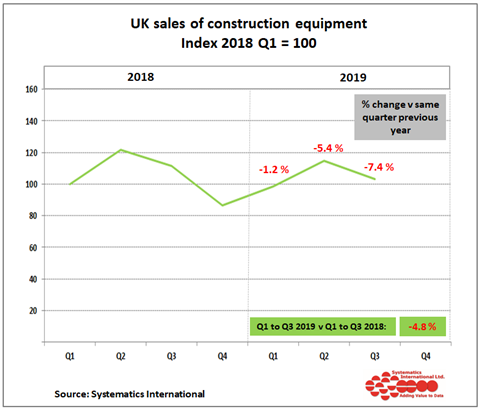 Sales of construction equipment in the UK were down by 7.4% in the third quarter of the year, compared with the same period in 2018, according to figures released by the Construction Equipment Association (CEA).
The latest figures follow a fall of 1.2% in the first quarter of the year, and 5.4% in the second quarter.
The figures reveal that the decline in sales that was first seen at the beginning of the year is not only continuing but increasing.
The release from the CEA states that, while a drop in sales from the peak level in 2018 was expected, the continuing Brexit negotiations – as well as recent negative media attention surrounding the High-Speed 2 rail link – appears to have added to market uncertainty, exacerbating the downward trend.
In the first nine months of this year, the UK recorded 25,700 unit sales. CEA said the machines that have been hardest hit during this period are mini/midi excavators (up to 10 tonnes), which suffered an 11% fall in sales.
Telehandlers, however, showed an increase of 9% in sales, compared with the same period in 2018.
The CEA noted that a steady underlying demand remained, but machine orders were coming in at short notice, on an 'as required' basis.
The CEA report also highlighted solid sales of smaller volume equipment types, including skid steer loaders, wheeled excavators and crawler dozers.
The weakest sales were for compaction rollers which, according to the association, reflected poor demand from the road sector.