UK project achieves 97% diesel-free operation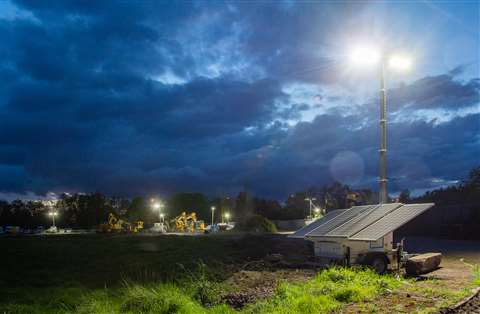 Network Rail and Colas Rail say they have proven the viability of sustainable construction, by operating a 97% diesel-free "site of the future".
The companies used innovative solar lighting and power generation to support a major rail renewal project in Llanwern, South Wales.
During the 14-day trial, two 25 kW solar generators, supplied by UK-based renewable power specialist Prolectric, replaced conventional diesel generators, saving 6,000 litres of fuel.
More than 15 tonnes of CO2 was also saved using Prolectric's range of solar and battery technologies for lighting and heating throughout the site.
The results of the trial are being hailed as a significant achievement and could help move Network Rail towards its target of reducing non-traction energy consumption by 20% and carbon emissions by 25%.
Ryan Ballinger, production manager for Colas Rail, said, "A 97% diesel reduction at the first attempt is a great achievement. Saving close to 6,000 litres of diesel is the same as driving a family car at 40 mpg twice around the circumference of the world.
"There's no doubt these technologies are going to be a complete gamechanger and we need to push on to get to a place where using this type of technology is just business as usual."
Balinger said the companies' aim was to achieve a 100% fuel-free site by the time of the next trial, set for a rail renewal project later this year.