UK reports mixed feelings
By Sandy Guthrie05 October 2018
UK construction companies are indicating the slowest growth in output for six months, with the rate of expansion slowing for the second month running, the latest Markit/CIPS UK Construction Purchasing Managers' Index (PMI) has found.
On the other hand, UK construction products manufacturing appears to have returned to business as usual in the third quarter after weather-related pauses and the subsequent catch-up in the first half of the year.
The UK's Construction Products Association's latest State of Trade Survey revealed that product sales, which it said acted as an early indicator of wider activity in the UK construction supply chain, had increased in the quarter.
It said Britain's £56 billion (€63.5 billion) industry was cautiously optimistic that the year would finish strongly with sales expected to pick-up in the fourth quarter.
The seasonally adjusted IHS Markit/CIPS UK Construction PMI was 52.1 in September, down from 52.9 in August.
Civil engineering was the worst performing sub-category of construction work, with activity declining at a slightly quicker rate in September.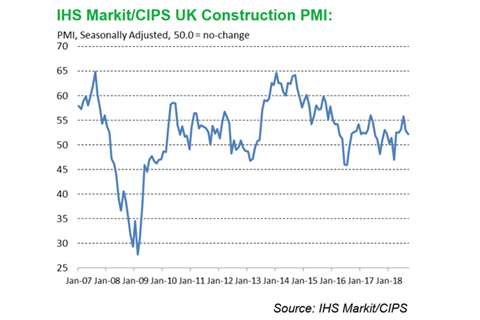 Housebuilding and commercial construction continued to increase at a solid pace, although the latest survey indicated weaker growth than in August. A number of firms suggested that subdued economic conditions so far in 2018 remained a factor holding back business activity growth.
Markit/CIPS said that in contrast to the trend seen for construction output, the latest data pointed to a faster rise in new business volumes. The rate of new order growth was said to have picked up to its strongest since December 2016, which firms were attributing to resilient demand and an upturn in new invitations to tender.
A robust rise in staffing numbers was reported in September, helped by another improvement in new order books. The latest increase in employment was the fastest since December 2015. Sub-contractor usage also increased at the fastest pace for over two-and-a-half years.
Stock shortages
Delivery times for construction products and materials continued to lengthen in September. Intense supply chain pressures were attributed to stock shortages at vendors and stretched transportation capacity. That said, the latest downturn in vendor performance was slightly less marked than the three-and-a-half year low seen during August.
Survey respondents widely cited higher fuel prices and greater raw material costs – particularly for timber.
September data indicated a further decline in optimism about the business outlook for the year ahead. The degree of positive sentiment reported by survey respondents was the second-lowest since February 2013.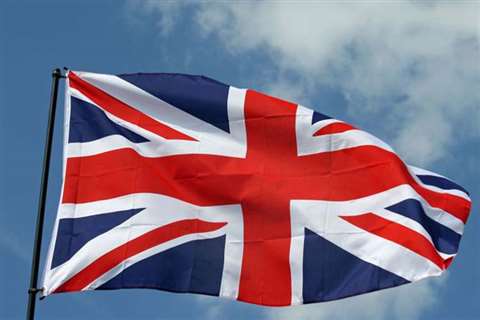 Construction companies noted that political uncertainty and investor concerns about Brexit (the UK's decision to leave the European Union) had dampened confidence in September.
Tim Moore, associate director at IHS Markit and author of the IHS Markit/CIPS Construction PMI, said, "The main areas reported as likely to see a boost in the coming year were construction work related to large-scale energy and transport projects."
Duncan Brock, group director at the Chartered Institute of Procurement & Supply (CIPS), said, "Despite the biggest rise in new orders since December 2016, the sector remained in a downbeat mood with business optimism at its second lowest level since the beginning of 2013.
"A cause of this malaise pointed to increased cost burdens with both fuel prices on the rise, and acute shortages in raw materials, as supplier delivery times have lengthened to an extent not seen since 2015."
He added, "The weakest overall activity in six months shows that caution and Brexit concern remain roadblocks to strong growth."
Products
Key findings in the Construction Products Association's latest State of Trade Survey include a balance of 27% of heavy side firms and 27% of light side firms reporting that construction product sales rose in the third quarter of 2018 compared with the second quarter.
On an annual basis, sales also increased for 27% of heavy side and light side firms.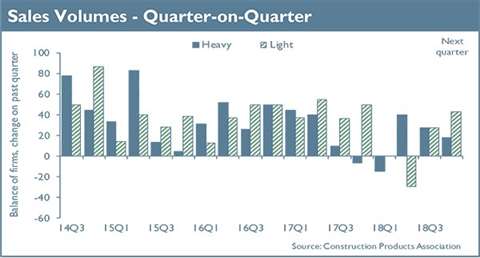 On balance, 18% of heavy side manufacturers forecast a rise in sales in the next quarter, but this was a decrease from a balance of 50% in the previous quarter.
On the light side, 43% of firms expected an increase in product sales in the fourth quarter, compared to a zero balance in the first two quarters of the year.
Overall annual cost increases were reported by 64% of manufacturers on the heavy side and 50% on the light side, while raw materials costs rose according to 82% of heavy side manufacturers and 71% of those on the light side. Fuel costs were reported higher by 90% of heavy side and light side firms
Rebecca Larkin, CPA senior economist, said, "Given the unprecedented levels of economic uncertainty around Brexit and the weather-related distortions in the first half of the year, signs of a steady expansion in the third quarter for construction product manufacturing, and the building activity it delivers into, are reassuring."
She said that manufacturers remained cautiously optimistic and expected sales to increase in the fourth quarter, but that it would be the political developments in the fourth quarter that were crucial in setting the backdrop for this to become a reality.
"Cost pressures appear to have started easing on the labour side, but with continued weakness in Sterling and the upward march in global oil prices since May, manufacturers are still feeling the pinch when it comes to fuel and raw materials input costs," she said.