Ulferts fits-out ship
By Christian Shelton13 August 2019
German crane and heavy haulage contractor Ulferts used two Liebherr LTM 1250-5.1 cranes and a Liebherr LTM 1100-5.2 at the Meyer-Werft shipyard in Papenburg, Germany to install the last bits of equipment onboard the Spirit of Discovery passenger ship.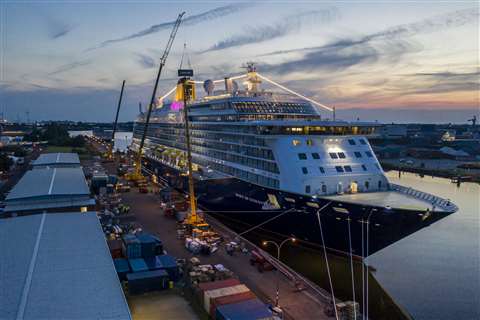 The ship is 236 metres long, 31.2 metres wide, and designed for 999 passengers. Due to its size, Ulferts set up both LTM 1250-5.1 cranes with their full ballast of 88 tonnes. The 250-tonne crane at the stern of the vessel was used with a radii of up to 44 metres with loads of up to 10 tonnes. The LTM 1250-5.1, which was responsible for covering the centre of the vessel, was set up with a hydraulically adjustable lattice fly jib to enable it to complete hoists over the edge of the ship at a height of around 50 metres, reaching over the centre axis of the vessel. Loads of 7 tonnes with a radius of 40 metres were hoisted to install the main funnel.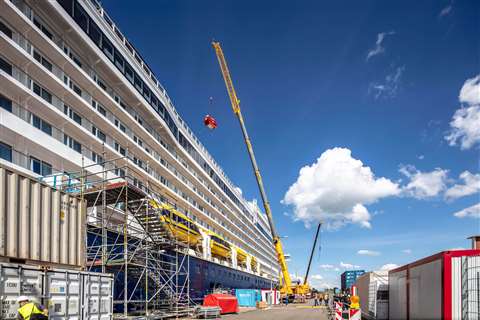 In addition, the space available on the pier for the three 5-axle mobile cranes to operate in was constricted as the area was still being used to fit out the ship. According to Liebherr, the VarioBallast feature on the two LTM 1250-5.1 cranes was useful as it enabled the ballast radius to be reduced for hoists with a small radius.
The Spirit of Discovery has now been handed over to British cruising line company Saga Cruises.