Ultimate project for SGL Constructors
By Laura Hatton30 July 2015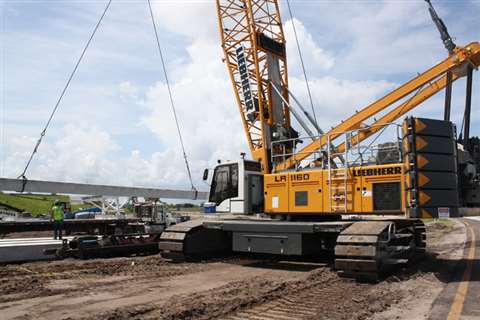 US construction joint venture company SGL Constructors, made up of Skanska USA, Granite and Lane, has ordered several Liebherr crawler cranes for use at the I-4 Ultimate project in Central Florida, USA. The lattice boom crawlers ordered include LR 1100, LR 1130 and LR 1160.
Interstate 4 (I-4) is one of Florida's busiest motorways. The project includes the construction and reconstruction of 15 major interchanges and more than 145 bridges. In addition, four new toll express lanes will be built, as well as rebuilding 21 miles of highway lanes between Kirkman Road in Orange County to State Road 434 in Seminole County.
The cranes on site range in capacity from 100 to 200 tonnes and are fitted with both free fall winches and auxiliary winch. In addition, the cranes have an auxiliary power unit to run air conditioning and new lightning rods on the main boom head.
Construction work on the interstate is scheduled to be completed within six and a half years. The project is estimated to cost more than US$2.3 billion.