Ultra-quiet LED light tower from Atlas
By Andy Brown06 March 2018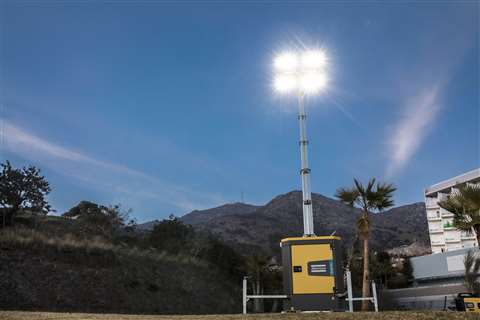 Atlas Copco has introduced a new ultra-quiet, diesel-driven, LED light tower. Delivering operating noise levels as low as 55 dBA, the renewed version of the HiLight B5+ light tower is suited to provide illumination at events, temporary public lighting or enhanced visibility at construction sites located near residential areas.
Optimum lighting performance is provided via the HiLight B5+ light tower's LED floodlights, which are capable of covering a 5000 m² area at an average luminosity of 20 luxes.
Maintenance and transport efficiency was a priority when designing the HiLight B5+. On the first front, the light tower only requires a simple service after 600 hours of operation; with the procedure made easier thanks to wide access doors and the logical layout of key internal components.
The compact dimensions of the light towers means that up to 22 HiLight B5+ units can be transported on a single 13m truck.
The HiLight B5+ will be able to be equipped with a new innovation for light towers called the SmartMast. The proprietary technology features intelligent in-built sensors that detect adverse environmental conditions, such as high winds, and will automatically lower the vertical mast when safety or stability is compromised.