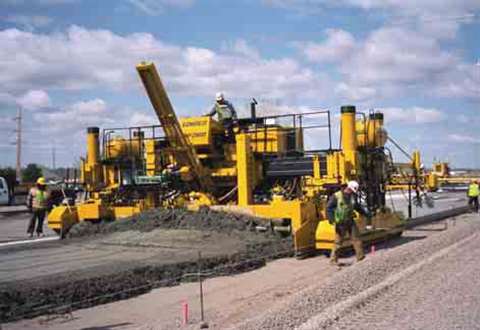 The leading construction equipment players will be presenting their product lines and services at ConExpo—Con/Agg, which is expected to be the largest construction industry trade event of 2005. The event currently has 1.85 million ft2 (172000 m2) of display space confirmed, and the organisers are predicting visitor numbers well over 100000.
Equipment launches
Caterpillar will be showcasing its new D8T tractor, the 730 Ejector Truck, 930G wheeled loader, 345C L excavator and RM—500 reclaimer/soil stabilizer. Also on display will be the 325C LCR excavator. Other launches include two new wheeled loaders, the 980H and the 988H.
Outside visitors can see the new 904B compact wheeled loader, TH215 compact telehandler, the 446D backhoe loader, the new CB—114 vibratory compactor and updated versions of its AP—1055D and AP—800D asphalt pavers, alongside the new PM—201 cold planer and RM—300 reclaimer.
Bobcat will be showing its new conventional drive 430 zero tail swing mini—excavator together with the S205 skid—steer. The new S205 is at the top end of the medium frame range, with a rated operating capacity of 2050 lb (930 kg) and a tipping load of 4100 lb (1860 kg).
Elsewhere, the Bauer Maschinen Group — Klemm, RTG and Bauer Equipment USA, Inc. — will be showing several new machines at this year's show, including two new foundation drill rigs — the MBG 12 and the BG 28, the successor to its BG 25.
RTG's new RG 19 T is capable of handling 60 ft (18,3 m) sheets/piles using various drilling systems. Klemm Bohrtechnik will show three of its latest developments — KR 702—1 mini—pile drill with telescopic mast, KR 805—1 for small—diameter foundation drilling, and KR 806—4 tieback drill rig.
Liebherr will be showing 25 machines, including six hydraulic excavators, four wheeled loaders, two dozers and a crawler loader, four mobile cranes, three tower cranes, two crawler cranes and two models from the concrete mixing technology range.
The PR734 dozer features reduced fuel consumption and a re—designed cabin. Other machines include the 200 tonne capacity HS 895 HD hydraulic crawler crane, Type LRT 622 recycling unit and its L 524 wheeled loader, which all get US launches.
Volvo will be unveiling its latest and largest excavator. The 70 tonne machine is currently in the final development stages and is due to go into full production during the last quarter of this year. Features include a Tier 3 engine featuring Volvo's new Advanced Combustion Technology (V—ACT) system.
Wirtgen will be showing a new, larger asphalt compactor, the Hamm HD O120V, which incorporates its exclusive oscillation technology. Also on show in the US for the first time is its 3412 VIO soil compactor with both vibration and oscillation within the drum.
Wirtgen's new HT 11 cutting system, the 2000 Combo Cutter, and a new FCS L fast—change drum system for the W 1900 and W 2000 will also be on its stand alongside its WR 2000 recycler/reclaimer, and the W 50 and W 50 DC mid—sized cold milling machines. A new electric screed from Vögele gets a US preview alongside its 2219T paver with the new AB 600 TP2 high—density screed.
Junttan will be showing an upgraded version of its PM 20 pile—driving rig. The new compact rig, with reduced weight, is easier and more economical to transport, says the company.
TCA— Schaeff will be showing its new HR3.7 and HR1.6 mini excavators, and new SKL814 wheeled loader alongside its new HR42 excavator. Also on the stand will be its TX970 and TX760B Fermac backhoe loaders
Concrete Equipment
New from Gomaco is a detachable telescoping auger/strike—off for increased flexibility when using its highway slipformers. Designed to give contractors the benefit of a mold that can be either an open front or auger/strike—off, it is easily broken down with removable and telescoping sections.
Power Pavers will be showing its PS—2700 for placing and spreading concrete in front of paving machines at widths from 12 to 27 ft (3,65 to 8,23 m) to a depth of 14"(355 mm). Also on show is Power Curber's 5700—Super—B, for slipforming curb and gutter, barrier, and sidewalk, alongside its Power Curber 150, a walk—behind extruder for concrete or asphalt curb in small parking lots.
Elsewhere, Multiquip's new CE certified one—man DuoScreed features a unique 6 m wide blade profile, enabling just one operator to strike off concrete floors. Other features include a 50% lighter blade than its predecessor and easy reversal for form—to—form screeding and wet work.
Guntert & Zimmerman is showing two new machines — the PS1200 Placer/Spreader and the Eagle 6500SS Side Shift Trencher, alongside its S850 Quadra Slipform Paver and Compact Dowel Bar Inserter.
CMI's Concrete Production Equipment Group is showing the Rustler III concrete plant
Cranes And Access
The Manitowoc Crane Group will be showing a full lineup of products at ConExpo. The company will have a total of 14 cranes, 12 of them new, on its indoor and outdoor stands, including three brand new machines and a number of units making their first appearance in the US. This year's event marks the first combined trade show of all four Manitowoc Crane Group product brands in North America — Manitowoc, Grove, Potain and National.
Units on display include Grove's new GMK5130—1 (known as the GMK5165 in the US) all—terrain crane, the RT875E rough—terrain crane, the TMS800E truck crane, the YB5515 industrial crane and the YB7720XL industrial crane.
New Manitowoc cranes include the Model 16000 crawler crane and the Model 12000 crawler crane. New cranes on display from National include its new Series 690E boom truck, Series 9125E boom truck and Series 18103 boom truck.
New from Potain will be its MDT 178 Topless City tower crane, HDT 80 self—erecting tower crane, Igo 50 self—erecting tower crane and Igo MA 21 self—erecting tower crane.
Getting its world premier at the show is Liebherr's LTM 1095—5.1 five—axle crane. The longest telescopic boom of its class, at 190 ft (58 m), is matched to a hook height of 269 ft (82 m). A lifting radius of 203 ft (62 m) is also possible using the 23 ft (7 m) telescopic boom extension and the 62 ft (9 m) double swing—away jib.
Genie will be showing its new Z—135/70 articulating boom. According to the company the Z—135/70 offers the largest working envelope in the articulating boom market, providing a maximum working height of 141 ft (42,9 m), horizontal outreach of 69 ft 9 in (21,3 m), and up—and—over clearance of 75 ft 6 in (23 m). Other features include Genie's new and exclusive X—Chassis axle configuration and Jib—eXtend jib.
Elsewhere, Alimak's new fully modular Scando 650 hoist is available in single or twin car configuration for payloads of 1500 to 3000 kg per car. The standard maximum lifting height of 400 m can be increased on request. The free—standing mast height is 32 m when equipped with optional pipe support.
Terex Demag wil be showing the AC 250—1 AT, AC 140—1, AC 55 City cranes. Also on show are the BT8130, RS70100 boom trucks and RT 1120, RT775 RT cranes and T775 truck crane together with the CC2200 crawler crane.
Demolition And Recycling
Rammer will add a new hammer to its in range at the show. The new in22, the largest model in the range, has a maximum operating weight of 230 kg and is for carriers of 2,5 to 5,5 tonnes.
Atlas Copco's will be showing what is thought to be the largest hydraulic breaker in the world, the HB7000. An operating weight of more than 13 tonnes makes it suitable for primary and secondary quarry breaking, demolition, tunnelling, trenching and foundation work.
Extec is promising two new additions to its range but the company is not releasing any details ahead of the event. In addition it will also show the S—5, S—4 and S—3 series of screening plants and the C10 and C12 tracked jaw crushers.
Brokk will be featuring its 180 unit fitted with a CC400 concrete crusher at the show. The 180 weighs 1900 kg (4200 lb), has a minimum height and width of 1390 mm (54,8") and 780 mm (30,8") and has an 18,5 kW electric power plant.
Sandvik's stand will feature its latest Crawlmaster 1208i — a new generation of the Crawlmaster crushing unit. The "i"stands for intelligence and, according to Sandvik, the on—board control system provides operational data and also controls sequenced start—ups, closedowns and faultfinding. It is available in three different versions, each designed to handle different types of materials.
Terex Pegson will be showcasing its 1412 Impactor together with its 1000R Cone Crusher and 1100X650 Premiertrack. Finlay will have the 1165 on show alongside the 740 Trommel and J1175 Crusher while Powerscreen will have its new Warrior H3S (folded conveyor) on the stand and Phoenix 1200 and Chieftain 2100 Triple Deck.
Engines & Components
Caterpillar will be showing several new small to mid—size engines ranging from the C1.1 IOPU to the C7 featuring ACERT technology to meet Tier 3/Stage IIIA emissions standards. Large engines, also featuring ACERT, are on display too, with a Cat C9 cutaway engine "revealing some of the magic". In the North Hall, Caterpillar OEM Solutions will be presenting Caterpillar components for original equipment manufacturers (OEMs).
In the South Hall, Perkins will be displaying an array of engines, including its 1100D Series, which also employ ACERT technology to meet Tier 3/Stage IIIA emissions regulations.
Bonfiglioli will be showcasing several new products including the latest addition to its 700 series of travel drive trains, the 720C3H, which, says the company marks a move to extend its travel drives to crawler machines of up to 180 tonnes. Also new is its 710—M5X180 combines a planetary gear unit for excavator slew drives in the 25 to 30 tonne class. Its new 706CK—MAG50VP travel drive is designed for tracked mini—excavators, crawler loaders, tractors and similar machines in the 3 to 6 tonne class range.
Briggs & Stratton Commercial Power will be introducing its Vanguard line of V—Twin "Big Block"air— and liquid—cooled 25, 27, 29, 31, 33 and 35 hp engines. Features include an advanced debris management system, which is incorporated into the air—cooling system. Another feature is V—Twin/Overhead Valve (OHV) technology, which reduces wear and tear while providing better balance and low vibration.
Italy—based manufacturer Brevini Riduttori will be launching two new series of high—efficiency planetary winch drives: the compact PWD series for drive applications from 3 to 12 tonnes, and the SLW—SCW series for operations requiring line pulls in excess of 12 tonnes.