Unic dealer in Poland
By Christian Shelton13 August 2019
Mini spider crane provider Unic Cranes Europe has appointed Polish mini crane rental firm company Podniose as a distributor of Unic mini spider cranes in Poland. Podniose was launched in May 2018 and, according to Unic, its clients include Mazda and a number of blue chip construction and glazing companies.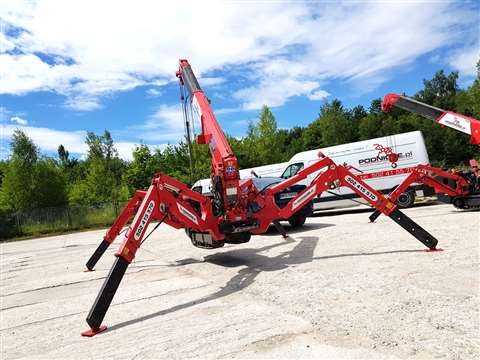 Marcin Drabczyk, owner of Podniose commented, "We are delighted to have signed an official distribution contract with Unic Cranes Europe. I first became aware of Unic mini spider cranes during a business visit to the UK where I saw a Unic mini spider crane in full working operation in Birmingham. I knew almost immediately there was a market for these compact mini cranes here in Poland and purchased a Unic URW-295 mini crane. We have now expanded our fleet to eight Unic mini spider cranes and we look forward to working with the Unic cranes team to meet the growing demand for these innovative machines across our dedicated territories in Poland."
Podniose is based in Radom and, according to Unic, covers the following territories: Warmian-Masurian – Olsztyn, Masovian – Warsaw, Lodz- Lodz, Swietokrzyskie – Kielce, Lesser Poland – Krakow, Subcarpatia – Rzeszow and Silesian – Katowice.