United launches jobsite efficiency campaign
By Lindsey Anderson24 July 2019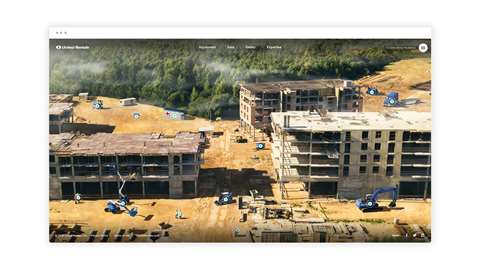 United Rentals is launching a campaign that aims to reduce underutilized construction equipment. The "A Better Worksite is Here" program is geared toward improving efficiency on construction, industrial and infrastructure projects across North America.
The "A Better Worksite is Here," created by Droga5, includes an immersive website where visitors can learn ways to manage worksite inefficiency. The site addresses topics such as fleet utilization, specialty solutions, tech innovations and worksite management.
The website also features summaries of more than 50 of the largest, real-world infrastructure projects in the United States and Canada and what it will take to complete them. Among the projects are Chicago offering 30 acres of city-owned vacant land for solar development, a new stormwater facility in Spokane, the Nashville Yards development and more.
"We enlisted Droga5 because we believe creativity is a critical component in connecting with our customers," said Chris Hummel, CMO of United Rentals, in a statement. "We want the campaign to resonate with them by tapping into real industry issues while also ensuring we're inserting a differentiated message into the marketplace."
Ray Del Savio, executive creative director at Droga5, said, "We have been excited about our partnership with United Rentals since the onset because they have the appetite and ambition to take a traditional b-to-b message and bring it to life in a unique and creative way.
"The first round of work highlights all the solutions United Rentals offers their customers and that by combining equipment, data, safety and expertise United Rentals can help the industry transform the way works get done," he added.