United Rentals makes show of strength at Utility Expo
Nobody visiting United Rentals' booth at the enormous Utility Expo in Louisville this week would doubt its commitment to the utilities market, with more than a dozen bucket trucks, digger derricks and other specialist utilities gear on display.
"We're here to play", said Brendan Shannon, a senior account manager working within United's utilities business, speaking to IRN at the show. "It's by far the largest booth we've had at the Utility Expo. We've made a significant investment in the utility space."
It's not just a fleet of hundreds of bucket trucks and digger derricks, it's also more specialist machines such as pullers, tensioners, and blocks and other specialist rigging equipment used by utility companies.
"Today we have a full depth and breadth of products for utilities", he says.
If there is a focus for the utilities division it is power distribution lines, of which there is around 5.5 million miles in the US.
"We can supply for transmission work, but the main focus in distribution", said Shannon, "It's a good entry point for the market and we have a lot of customers working in that area".
United Rentals' push into utilities started in earnest in 2020, and the company now has eight utilities hubs, with plans for more. These sites are co-located with United's commercial truck hubs, of which there are more than 30 in the US; "We put the utility equipment in the stores where they can get the specialist attention they need."
Of course, the investment is because United views potential in the market; "We see the utility market as very strong", Shannon said, "Looking forward, there is a lot of capex spending to upgrade the infrastructure. Lots of utilities are preparing for electrification of the automotive sector. We are supporting them build a more reliable grid."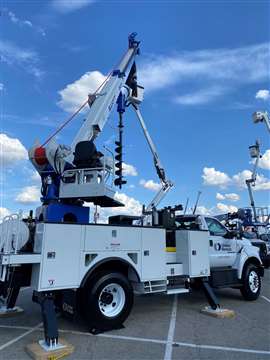 Included on the stand was one of the new D47 digger derricks from Elliott Equipment. The D47 offers 26,000 lb maximum lifting capacity and a 17 to 26 ft digging radius.
United Rentals is a rental partner with Elliott on the machine and has order a double-digit number of the D47s.
Craig Schmidt, vice president national accounts, United Rentals, said the machine was a user-friendly option to offer customers; "We are excited to partner with Elliott and give our customers access to a new generation of digger derricks that helps drive safety and productivity in the utility space."