United Rentals reports $689 million US tax benefit
By Murray Pollok25 January 2018
United Rentals reported a US$689 million net benefit in its fourth-quarter results as a result of the new Tax Cuts and Jobs Act, in which corporate tax rates were reduced to 21%. The company also estimated that the new tax regime would produce a US$250 million increase in cash flow this year.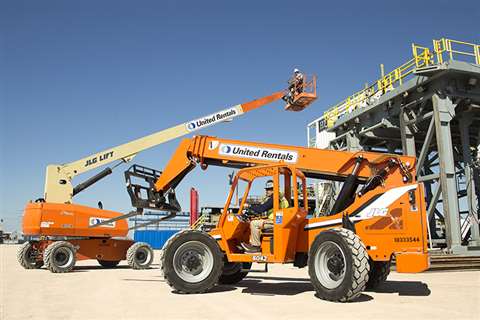 The company saw a 26% increase in revenues to US$1.92 billion for its fourth quarter, with net profits of US$897 million (which included the US$689 million tax benefit). Excluding the tax benefit, net profits would be US$208 million compared to US$153 million for the same quarter in 2016.
The company's outlook for 2018 is for a 10 to 14% increase in revenues, which CEO Michael Kneeland said "reflects the confidence we feel in our operating environment based on what we hear from customers and see in key leading indicators.
"Our optimism is further supported by the tailwinds we expect from leveraging our 2017 acquisitions and our ongoing investments in people and technology, as well as the recent US tax reform."
The fourth-quarter results include the impact of the two major acquisitions completed in 2017 - NES Rentals in April 2017 and Neff Corp in October 2017. On a pro forma basis, reflecting the combination of United, NES and Neff for all the periods being compared, revenues were up 11.5%.
United said its specialty segment, including trench, pump and power, performed particularly well, with revenues on a same store basis up almost 39% in the fourth quarter.
Revenues for the full year were up 15.7% to US$6.64 billion, with net profits of US$1.35 billion (including the US$689 million tax benefit). On a pro forma basis revenues increased by 7.6%.
The company said its 2018 outlook was for revenues of between US$7.3 billion and US$7.6 billion, reflecting a growth of between 10 and 14%. It expects to spend US$1.8 billion to US$1.95 billion on rental fleet, gross, which is a slight increase over the US$1.77 billion invested in 2017.
"We capped a year of record results with a strong fourth quarter finish on the back of broad-based demand", said Kneeland, "Pro forma volume increased nearly 9% year-over-year in the quarter, and rental rates were up 2%. For the full year, we exceeded the upper-band of guidance on total revenue, adjusted EBITDA and free cash flow, and increased our ROIC by 50 basis points year-over-year to its highest level since 2015.
United said the new tax regulations impacted its 2017 results primarily due to a one-time, non-cash tax benefit estimated at $746 million, which reflected the revaluation of its net deferred tax liability using a federal tax rate of 21%. That benefit was offset by a one-time tax estimated at $57 million on its unremitted foreign earnings and profits, which United said it would pay over an eight year period.