University demolition challenge for Lawson Demolition
By Lindsay Gale11 August 2009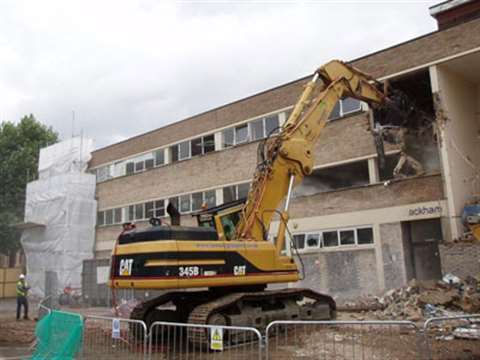 Redevelopment work on the Anglia Ruskin University campus complex in Cambridge, UK, requires the demolition of older University buildings to allow for the provision of updated facilities for the students attending the University. As part of this work main contractor Volker Fitzpatrick has brought demolition contractor Lawson Demolition on site to clear The Rackham Building, currently the home for some of the University's student information centres, along with other functions. The Rackham Building is situated on Broad Street in the historic university city of Cambridge and covers an area of some 1,500 square metres (16,150 square feet).
The main challenge of the nine-week contract, which covers soft strip through to site clearance, is to ensure the minimum of disturbance to local residents and the other buildings in close proximity. Lawson has therefore put measures in place to control and regulate both noise and dust. As part of this, fire retardant monoflex scaffolding has been installed to ensure further protection of the site during the demolition process.
Lawson personnel (with a peak presence of 15 on site) have taken particular care with the implementation of hand separation works to form a demolition cut line between The Rackham Building and the adjacent Bryant Building, to which it is joined.
A full Site Waste Management Plan (SWMP) has been developed that ensures that any waste or debris resulting from the demolition is efficiently handled - Lawson estimates that by the end of the project, 80% of all waste will have been processed for reuse.
Lawson director Martin Wilson said: "We are committed to providing environmentally viable and ethically sound disposal of all materials from our sites wherever possible. The concrete and brick from the building, for example, will be segregated and then processed through an on-site crusher before being removed to a local recycling facility. We are delighted to have been chosen to be a part of this project, and are looking forward to working on this exciting new development."