University's construction waste research gets official recognition
A tool developed by researchers at Glasgow Caledonian University to measure the "true cost" of waste on Scottish construction sites has influenced a ground-breaking industry protocol.
A series of studies, culminating in a two-month field study conducted by the university last year, itemised and calculated the cost of waste items found on multiple Scottish sites, using a tool the researchers developed to log waste items found in typical "mixed-waste" construction skips.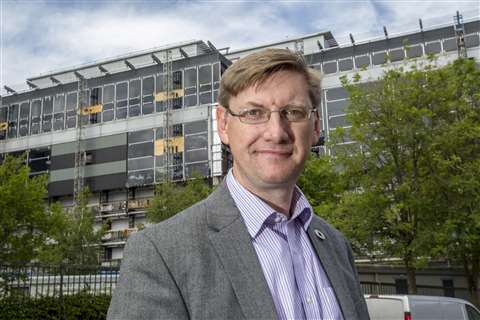 Professor Billy Hare, Dr Kenneth Lawani and Siobhan Morison, of GCU's BEAM Research Centre, won a competitive tender for £24,000 (US$28,780) funding from Zero Waste Scotland to carry out the project.
Now Zero Waste Scotland has adopted the tool as part of its Site Waste Reduction Protocol, which helps site staff record and quantify everything that is being wasted.
The protocol itself is a method for how to best use the calculator for accurate results, which includes guidance on monitoring skips, estimating quantities and classifying material types.
Once enough data has been collected, the calculator can produce reports that show what types of materials are being wasted most often and why, how much these have cost the business and gives the data needed to calculate how much this is adding to the carbon footprint of a business.
Professor Hare said: "The tool we have developed prompts users to record not only what waste is in the skip, but more importantly why it is in the skip.
"Reasons may include damage or excess material from cutting but may also include materials that have been wrongly specified, striped out due to poor workmanship or even built in the wrong place.
"The reason why the waste is in the skip has implications for the true cost, as there are additional costs to rectify errors. Longer-term, this also helps to inform strategies to eliminate or reduce waste in the first place, which can be more strategically targeted when the root cause is known."