US$5.5 billion Baltimore PPP
By Joe Sargent16 May 2019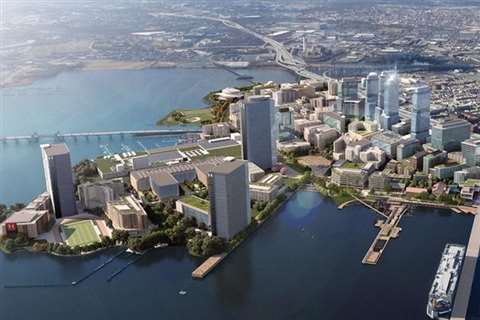 Construction has begun on a new US$5.5 billion redevelopment of Port Covington in Baltimore, Maryland, US.
The first phase of the project, which will create 120,000m2 of office space, around 31,400m2 of new retail space and about 117,150m2 of new residential and hotel space, is expected to cost around US$600 million to US$700 million.
When the entire project has been built, around 40 acres (161,874m2) of parks and green space will be delivered, 4.02 km of restored waterfront and 1,672,250m2 of new mixed-use space.
The project itself is a public private partnership (PPP) between the city of Baltimore and the Port Covington developers.
Leading construction is Whiting-Turner Contracting Co. with STV Inc. operating as the licensed engineer.
Partial funding will be generated through bond financing to help pay for the estimated US$1.4 billion required for new infrastructure.
The developers have agreed to provide benefits for local trades by hiring minority contractors to participate in the project.
A contribution of US$10 million has also been offered by the developers as a way of empowering young people in youth education programs.
The entire project is expected to be completed by 2045.