US civils contractors eye healthy backlogs amid 'once-in-a-generation' infrastructure spending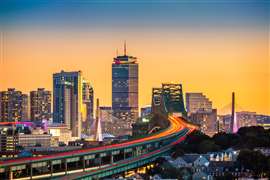 More than three-quarters (78%) of US civils contractors expect their project backlog to increase or remain the same over the next year as new federal infrastructure funding ramps up.
That's according to a new report from Procore Technologies and the Associated General Contractors of America (AGC).
But the report Top Civil & Infrastructure Trends: Today's Industry Challenges and Opportunities, also warned that many firms are worried that labour shortages and productivity challenges could undermine their success with these projects.
The report is based on a survey of nearly 500 general and specialist contractors.
Civil and infrastructure builders reported an average increase of 25% in their backlogs since the covid-19 pandemic. And 78% of companies said that backlog would grow or remain level during the next 12 months.
But one-third of civil and infrastructure projects fail to meet their specified budget, schedule and quality goals, according to the survey.
It found several key factors that contributed to these project outcomes.
Material and labour costs (41%), worker skills and training (40%), and project management (39%) emerged as the top three factors impacting project success, followed by supply chain management (38%) and workflow efficiency (35%).
Sandra Benson, vice president of industry strategy at Procore, said, "With increased backlogs prompted by once-in-a-generation government investment in the U.S. and Canada, civil and infrastructure organizations are on the precipice of historic projects across North America.
"To achieve these massive undertakings, while also navigating the ongoing labour shortage, companies will have to find innovative solutions, improve self-performance, and leverage clean data to build better."
Stephen E. Sandherr, CEO, AGC, added, "Civil and infrastructure construction is poised to play a greater role in the advancement of the U.S. economy than at any time in the past several decades.
"This report is essential to understanding the current state of civil and infrastructure companies, their challenges. and their potential is essential to making sure the opportunities ahead are captured to the fullest."