US construction groups included on Trump's panel to reopen
By Jenny Lescohier16 April 2020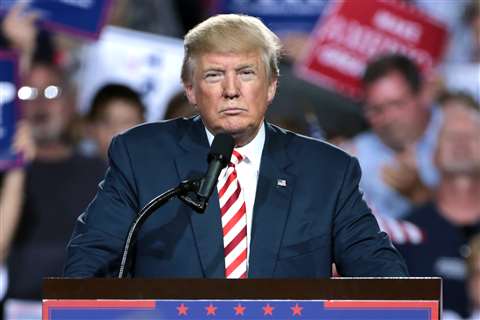 President Donald Trump announced a list of "Great American Economic Revival" industry groups, including many within the US construction industry, that he said will advise the White House on reopening the economy after the shutdown brought about by the coronavirus pandemic.
"Now, we have a list of people that I'll be speaking to over the next very short period of time, in many cases, tomorrow," Trump said, as reported by Politico. "We have a list of different industries that I'll be discussing by, meeting by telephone, because we don't want people traveling right now."
Among the organizations involved with US construction are trade groups Associated Builders and Contractors (ABC), Associated General Contractors of America (AGC) and major firms such as Bechtel and Fluor.
Associated Builders and Contractors President and Chief Executive Officer Michael D. Bellaman said the ABC is honoured to be collaborating with the White House and other industry leaders.
"ABC members are committed to the health and safety of the workforce and continue to leverage existing and establish new industry best practices that allow us to implement enhanced measures recommended by local health officials and the Centers for Disease Control and Prevention," Bellaman said. "In addition, we are encouraged by the commitment to the ongoing development and deployment of effective and efficient testing, which can further augment world-class safety practices."
He continued, "To ensure our economy recovers and remains strong, we must also maintain employment levels through the extension of the Paycheck Protection Program. This vital lifeline has preserved millions of jobs and will ensure the stability of the workforce as we move through the crisis, as well as maintain the vitality of our supply chain, which is largely comprised of small businesses.
"Another strategy discussed was the enactment of a substantial infrastructure package to address the much-needed repair and modernisation of our nation's transportation infrastructure. ABC is committed to working with the administration and lawmakers to create the conditions for infrastructure projects that would provide the most value for the country, funded appropriately and designed and built efficiently and effectively."
According to news reports, neither Trump nor the White House has said how the committees will work.
Participating groups related to construction, labor and workforce include:
International Union of Operating Engineers – Jim Callahan
North America's Building Trades Union – Sean McGarvey
Laborers' International Union of North America – Terry O'Sullivan
International Brotherhood of Teamsters – Jim Hoffa
National Electrical Contractors Association – David Long
Bechtel – Brendan Bechtel
Fluor – Carlos Hernandez
National Association of Home Builders – Jerry Howard
Associated Builders and Contractors – Michael Bellaman
Associated General Contractors – Stephen Sandherr
AFL-CIO – Richard Trumka
GH Palmer – Geoff Palmer
American Council of Engineering Companies - Linda Bauer Darr