US contractor receives one of the first high-drive electric dozers
By Jenny Lescohier19 November 2020
US-based contractor Goodfellow Bros. has received one of the world's first high-drive electric dozers manufactured by Caterpillar.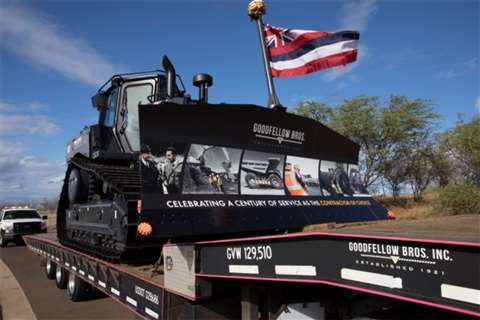 The machine is one of three special-edition commemorative Cat D6 XE dozers built to celebrate Caterpillar's production of 175,000 medium high-drive dozers. Cat first revealed its D6 dozer at Bauma in April 2019, with a choice of electric drive or fully automatic power train.
Goodfellow Bros. Inc. (GBI) is a fourth-generation family-owned large heavy-civil contractor with operations in Hawaii, Oregon, California and Washington. Caterpillar selected GBI as a recipient of the all-new dozer because of its long-standing relationship with the company.
"The strong partnership between Caterpillar, Hawthorne Cat and Goodfellow Bros. provided us a unique opportunity to celebrate significant and special milestones," said Patrick Kearns, North America industry region manager for Caterpillar. "This commemorative medium track-type tractor symbolises so much of what we've accomplished over the last century and our commitment to building a better world."
The Cat D6 XE is the world's first electric-drive dozer offering elevated sprocket design for increased agility and 35% better fuel efficiency, compared to the previous 3-speed model D6T, according to Caterpillar.
With no gears to shift, Caterpillar claims the electric drive provides maximum torque at all speeds and constant power to the ground, allowing it to move up to 10% more material per hour. In addition to increased performance, the electric drive was designed to offer durability and simplified diagnostics, helping reduce service and maintenance costs.
"For nearly 100 years, Goodfellow Bros. has been on the forefront of adopting innovative technologies to improve operations and make jobs safer and more efficient," said Chad Goodfellow, CEO of Goodfellow Bros. "The addition of the Cat D6 XE to our fleet is a great example of our commitment to innovation and partnerships that make our industry better."
Earlier this month, UK consulting and contracting company Sirius Group took possession of a Cat D6 XE dozer as part of a move to be more efficient and sustainable.