US to drive global construction upswing
By Thomas Allen25 January 2018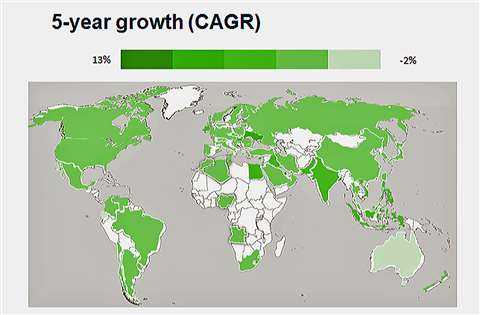 Accelerated growth in the US construction industry is set to support a strong expansion of construction across the globe, according to a new report from Oxford Economics.
Although the US construction market stagnated in 2017, it is expected to pick up sharply and fuel several back-to-back years of robust growth in global construction at a pace significantly higher than the average growth rates seen over the current decade.
Growth in global construction is predicted to accelerate to 3.2% this year and 3.3% in 2019, from an expected 2.4% in 2017 and 2.5% in 2016. The average over the five years preceding that was 2.8%.
US
The report said that US construction would likely register growth of just 0.2% in 2017, having seen a 0.6% contraction in the second quarter, and with an expected further decline in the third quarter.
However, in contrast, an expansion by 2.8% has been forecast for 2018, to be followed by an even stronger 2019 with projected growth of 3.3%.
Oxford Economics said that this would be driven by strong global economic growth and a further strengthening in world trade, with the result that greater optimism would stimulate investment in new projects. A further boost could come from the Trump Administration's proposed infrastructure spending.
Residential building remains the dominant force in the US construction industry, though infrastructure moves from the government could lead to an upgrading of civil engineering projections from their current levels. As things stand, civil engineering is projected to grow by 2.2% in 2018 after an expected 6.5% contraction in 2017.
With that said, supply-side bottlenecks pose a potential risk and there were said to be increasing signs that these constraints are bearing down on activity.
Eurozone
The report suggested that robust growth would continue to be seen in the Eurozone, with forecasts for this year being upgraded. Although they still indicate a slight slowing, 2.7% growth is expected for 2018, compared to the 3.3% expected outcome for last year. It seems that construction in the Eurozone is being buoyed by the widespread economic strength of the region.
The major driving force continues to be Germany, which is riding a wave of demand in the wake of the migrant influx from 2015. Both residential and non-residential have seen significant boosts.
The UK, on the other hand, faces further weakening of its construction sector in 2018, the report said. A contraction of 0.3% has been forecast as the outlook becomes more negative in the face of uncertain Brexit negotiations, which have been impacting on investment decisions.
China
Turning to China, the forecast for 2018 has been scaled back but Oxford Economics is still predicting a strong growth of 4.2% – down from the previous forecast of 4.8%. This follows an expected growth figure of 4.6% for 2017.
Overall, China remains on a relatively steady path, with real estate investment growing constantly. However, the authorities have begun to rein-in some of the earlier stimulus designed to boost the housing sector.
Non-residential remains the strongest component of activity in China's construction sector, and this was said to be especially true for commercial structures such as office buildings and shopping complexes.