Utility equipment: Utilising machines
By Joe Sargent14 August 2019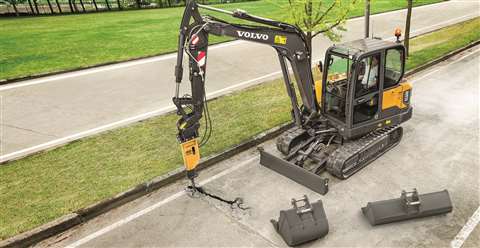 Installation of utilities traditionally requires a combination of operator skills and utilising a range of different equipment. Regulations, such as emission restrictions, are driving changes in technology and are leading to more efficient machines than ever before being produced.
One of the key themes for Original Equipment Manufacturers (OEM's) and end users alike is return on investment (ROI). Contractors and plant owners need to be competitive with their rates; having the most efficient machine possible is an important factor in achieving this.
Another element to maintaining ROI is minimising machine downtime, whether that's through smart scheduling of a machine's regular servicing or by reducing the number of breakdowns. A company that believes its latest offering has what it takes to boost efficiency is Volvo Construction Equipment (Volvo CE) with the introduction of its new EC60E Crawler excavator.
Replacing the outgoing EC55C, the more powerful crawler excavator from Volvo CE is said to be built for comfortable and efficient operation in a wide variety of applications.
According to the company, the EC60E is built to fit any jobsite, from confined spaces to major construction projects, useful for a sector such as utilities which demands a whole range of machinery applications.  
The compact design features a long arm, with an optional fixed boom or offset boom. Areas of improvement include increased traction, swing force and a higher lifting capacity to achieve results.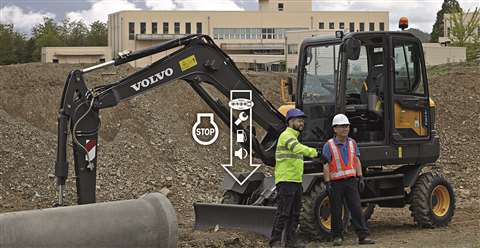 Volvo CE also recently announced its updated EW60E wheeled excavator, featuring improved hydraulics for greater control and better fuel efficiency, with the aim of tackling a wide range of traditional excavator tasks.
A new engine management feature – ECO mode – is fitted as standard. This is said to lower the engine speed without impacting on performance, resulting in reduced fuel consumption.
In a tight spot
German rental company HKL has supplied specialised equipment to contractor VSTR AG Rodewisch. The contractor is responsible for installing the pipelines for a large residential development in the northeast of the German capital, Berlin.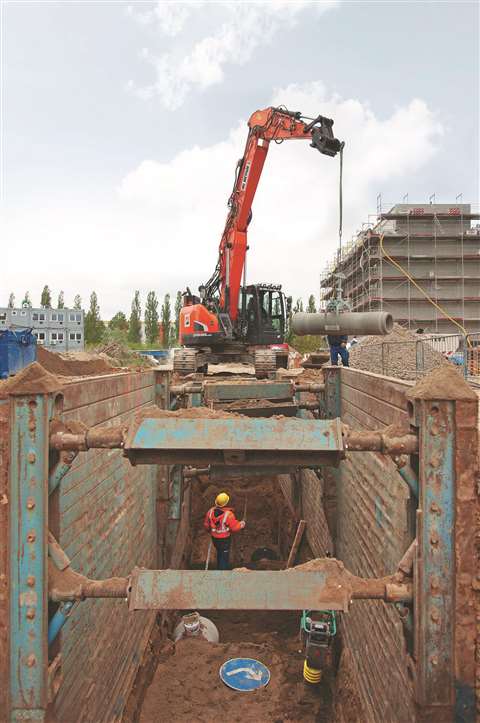 The Mein Falkenberg project will comprise about 1,240 residential units and will be built on an area of 130,000m2 by 2022. However, the project is characterised by narrow spaces and tight schedules, so VSTR relied on HKL to provide specially equipped machines.
Among them was a 22 tonne Doosan DX235 crawler excavator fitted with a hydraulic quick-change system to enable attachments to be replaced remotely from the driver's cab. This was said to save time, since the spoon and gripper are typically changed several times an hour.
The pipe gripper, with particularly small dimensions, was also ordered separately for the project to make it possible to insert the solid wastewater pipes into the narrow excavation pits.
Elsewhere, Italian-based contractor Sevis has been relying on a rental service provided by Italian Caterpillar dealer CGT to construct a €5 million (US$5.6 million) reservoir in Pinzolo in the Italian Alps.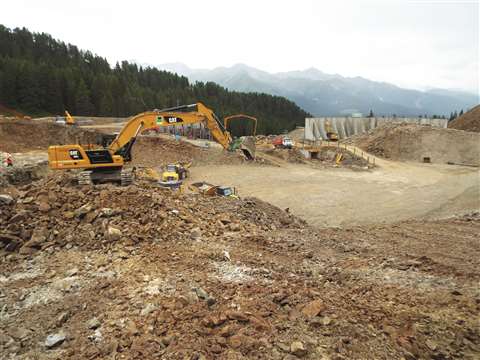 The area is a popular skiing destination, but with the changing climate snowfall is becoming unpredictable, so the 120,000m2 capacity reservoir will supply water to more than 50 locations in a 15km radius where snow machines are located.
Although Sevis owns a fleet of 30 machines, it was necessary to rent additional equipment from CGT in order to give it the flexibility to carry out this project in such a short timescale. Work started in May this year and is scheduled to finish in October 2019.
CGT provided digitally enhanced machines onto which a digital plan of the jobsite can be uploaded. Machine guidance technology is then used to make the process easier and quicker for operators. Giovanni Delladio, CEO of Sevis, said, "The technology used has halved the time this project would have taken."
Italian manufacturer Case Construction Equipment has announced the first European sale of its Stage V excavator range. The machine, a CASE CX90D, was sold to UK engineering and administration service providers Civil & Construction Solutions to be used in the road and sewer side of the company's offering.
Sandro Vitale, product director for general construction at Case Construction Equipment Europe, said, "The Yanmar Stage V engine used in the CX90D is the most powerful in the segment. As well as meeting the legislation requirements, we also deliver 20% more power with a 4.5% decrease in fuel usage."
Fifth generation business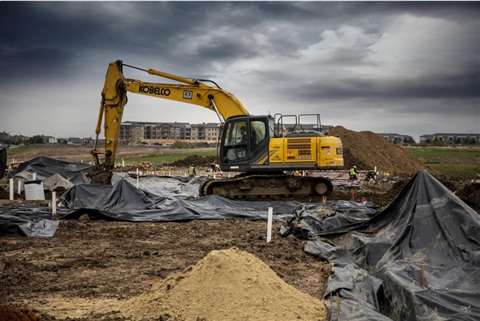 The Moss family has been installing utilities in the Dallas-Fort Worth (DFW) area in the US for almost a century. Moss Construction Co. was one of the largest utility contracting companies in DFW during its time. However, following the global economic crash in 2008 it was forced to cease trading.
In 2016, Garrett Moss, fifth generation family member, and Case Whitfield, decided to begin a new venture, Moss Utilities, with the goal of continuing the family legacy. Moss and Whitfield needed an equipment supplier to help kick-start their new business and reached an agreement with Kobelco dealer Bane Machinery.
Fast forward to 2019 and Moss Utilities now has a team of more than 140 employees. The company specialises in providing its customers with underground utility installation services, including water, sewer, storm drainage, duct bank and fire lines.
Moss said, "Our partnership with Bane Machinery allows us to do other things that we couldn't do with some of the bigger guys in town.
"We have a strong relationship and history with the Bane team. They are our go-to for machinery, parts and service and we look forward to continued success together."
Trenching solutions
A company that's no stranger to drainage is Ditch Witch. The firm offers a variety of trenching products, from small walk-behind products to vast trenching behemoths.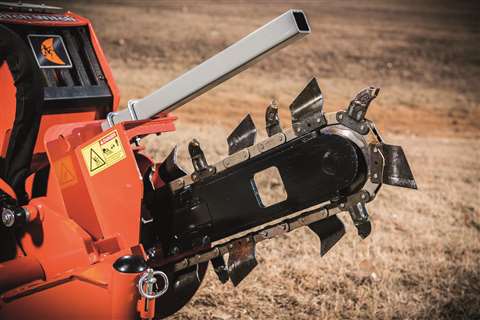 The Ditch Witch C14 Walk-Behind Trencher was designed with the rental business in mind. The company's C Series is said to offer balanced traction, better manoeuvrability and smoother operation of its patent-pending offset rear tire design and pivoting trail wheel.
A newly designed hydraulic system eliminates vertical shafts and belts, resulting in a simple unit with no linkages to adjust. Up to 609.6mm digging depth is achievable for efficient installation of pipe and cable.
In other new equipment news, UK-based OEM JCB has developed its 8-10 tonne midi excavators to be safer and more user-friendly than their predecessors, making them ideal for utility applications such as pipelaying.
The machines, including the JCB 85Z-2, 86C-2, 90Z-2 and 100C-2, utilise a revised electrical architecture with a 178mm operator display, membrane switch panel and rotary controls. There are enhanced safety features, including an advanced lift overload system, that gives a visual indication of the lifting limits of the machine.
Another multi-use machine that JCB believes is perfect for use in utility installation is the firm's backhoe loader. JCB launched the 3CX Compact in 2015, but has since developed new offerings in its range.
Recently the company unveiled the new 3CX Compact PLUS and the 3CX Compact PRO models offering enhanced attachment compatibility to undertake a range of new applications. At 1.9m wide and 2.74m high, the company says the machine is ideal for utility construction.
Turning the industry on its head
Tiltrotater technology can make the jobsite a more efficient place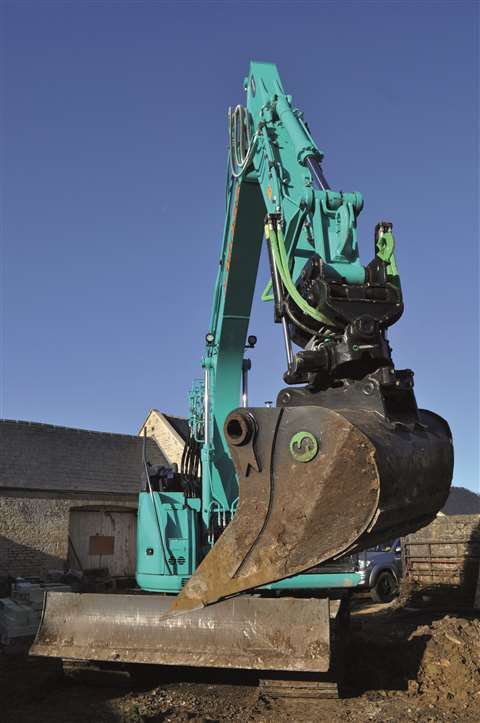 Utility installation can be a very varied task. One particular innovation has the ability to transform the way in which traditional excavators are used in such situations; tiltrotators.
Tiltrotators offer the chance to revolutionise how the same machinery and equipment designs that have been used for decades are utilised. This technology gives an excavator a whole new dimension, providing operators with fresh parameters in which they can work.
The tool gives the freedom to angle the machine's bucket or other attachments in an unrivalled way, saving time and offering the potential to reduce the number of labourers working around the machine.
Steelwrist products can be installed on machines varying from two to 33 tonnes, as long as a machine has a breaker hammer auxiliary circuit.
Pat Bulcock, managing director of Steelwrist, said "We can pretty much fulfil any market, but then there's a whole plethora of attachments. One guy said to me, 'Steelwrist is the key to unlocking my attachments'. We offer a one-stop-shop for these attachments."
The all-rounder
Insight from Egidio Galano, product director Case Compact Equipment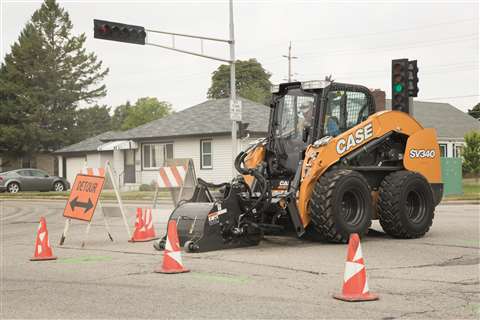 How are Case's skid steer loaders utilised in the utility sector?
The Case skid steer and compact track loaders have a wide range of uses in all utility applications and urban job sites, thanks to their compact dimensions, hydraulic features and varied choice of attachments that can fit them.
Are there specific models designed with utility work in mind?
The whole range can be successfully employed in utility jobs. Models SR130 and SR160 can be considered the entry-level for the segment, to be used in connection with attachments fed by a standard hydraulic flow from 59 to 70 litres per minute (LPM). The rest of the range features a higher hydraulic flow that can go from 116 to 150 LPM, with a pressure of 210 bar, allowing the Case skid steer and compact track loaders to be coupled with more demanding attachments such as snow blowers, cold planers and rock wheels. 
Which attachments are beneficial for utility projects?
Skid steer and compact track loaders can be considered 'the swiss army knife of construction equipment' with a growing number of attachments being coupled to them. The use of skid steer loaders in road works applications is showing a considerable expansion, especially in connection with the development in many communities of the optic fibre layout. The range of attachments dedicated to these applications, cold planers, trenchers, rock wheels and compactor wheels, is also recording a fast growth. It is increasingly common to see skid steers or compact track loaders working in busy city streets.