Veidekke for major projects
By Thomas Allen15 February 2018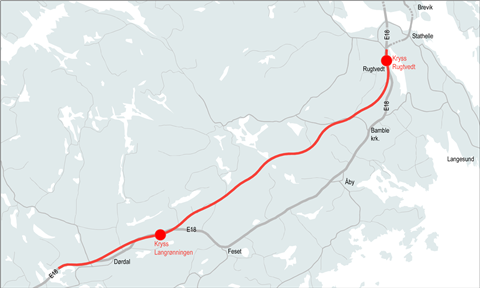 Veidekke Industri – a subsidiary of Norwegian-based Veidekke group – has been chosen by BetonmastHæhre Anlegg to lay 390,000 tonnes of asphalt for two road projects in Norway.
The two contracts, for projects run by state-owned company Nye Veier, are for the section between Kolomoen and Arnkvern on the E6 road, and the Rugtvedt to Dørdal section of the E18 road. These come in addition to the paving that Veidekke is carrying out on its own project between Arnkvern and Moelv on the E6.
For the E6 Kolomoen to Amkvern project, work will begin when the season starts in 2018, and is planned to continue until the summer of 2020. In this time, about 227,000 tonnes of asphalt will be used.
Work on the E18 Rugtvedt to Dørdal project work will be carried out between the autumn of 2018 and the autumn of 2019, and the asphalt tonnage will be close to 163,000 tonnes.
In addition to the production and laying of the asphalt, both contracts include options for asphalt maintenance for the next 20 years.
For comparison, Veidekke's overall asphalt tonnage in 2017 was 2.63 million tonnes. The company has a significant production and paving capacity for asphalt in both Telemark and Hedmark, in Norway.