Venieri to manufacture machines for Yanmar
By Sandy Guthrie21 April 2015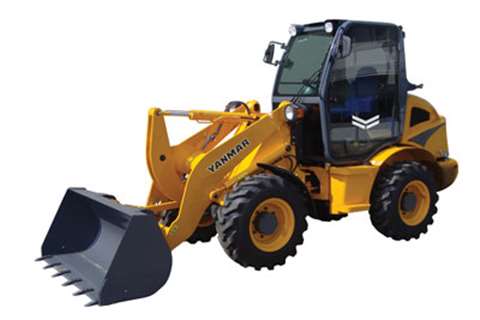 Yanmar has entered into an agreement for Italian manufacturer Venieri to produce a series of wheeled loaders for the European market under the Yanmar brand.
The agreement was signed at the Intermat show in Paris today.
Yanmar said the aim was to expand its range with new products that were complementary to its hydraulic compact excavators, and strengthen its presence in the compact equipment sector.
Venieri and Yanmar said they had co-operated on the design of the new range of wheeled loaders.
Georg Hoyer, area sales manager for Yanmar Construction Equipment Europe, said this was a long-term agreement, and that the companies had been working together on the new models for a year.
The first two models – the 4.1 tonne class V7 and 4.4 tonne class V8 – will be launched in September or October 2015. The machines have a capacity of 0.7 and 0.8m3 and will be equipped with a 37kW Yanmar engine 4TNV88.
Hoyer said that the basic design of the machine was the same as a Venieri model, but there were a number of changes inside, for example in the controls layout. The new models will not be sold under the Venieri brand with these changes.
The Yanmar branded machines will not be sold in Italy or the UK, but are aimed at the rest of Europe. Hoyer said, "We are looking to Germany, Scandinavia and France first. The aim is to strengthen the position of our dealers in the market."
Filipo Muccinelli Venieri, who is responsible for marketing at the Italian company, said, "We are very happy about the partnership. Yanmar is known for its good quality."
Between 1992 and 2002, Venieri had an agreement with Case, before its merger with New Holland.
Two bigger machines will be added to the Yanmar/Venieri range. Hoyer said they were "in the pipeline".