Versalift launches PHX 180-I
By Lindsey Anderson30 September 2015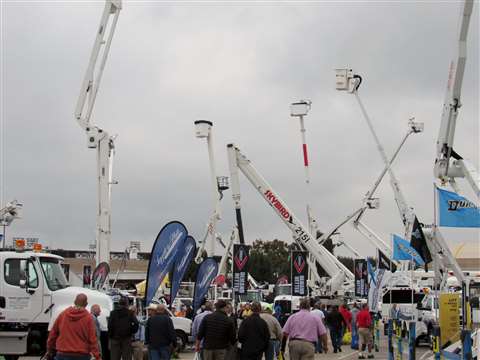 Versalift's stand was buzzing at ICUEE, Sept. 29 - Oct. 1 in Louisville, as a number of new products were unveiled. One, however, was too new to appear at the show, but Greg Dejonghe, application engineer and sales for the company, said the PHX 180-I is a game-changer.
"The Phoenix [PHX] is a 'maximum' machine," Dejonghe said. "We wanted to build a machine to meet all of our goals, but instead, we built a better machine."
Speaking to ALH at ICUEE, Dejonghe said the PHX 180-I will have a maximum working height of 182 feet, 11 inches with a maximum side reach of 78 feet, 10 inches. Maximum platform capacity is 2,000 pounds and maximum material handling is 1,500 pounds. The 8-foot by 3-foot platform can rotate 180 degrees.
Features include: auxiliary DC-driven pump with controls in both operators' stations; emergency shut-off switches in all control locations which automatically stops aerial movement and shuts the engine off; full envelope control with automatic end of travel speed reduction; and a new graphic display in the platform that provides load, extension, LMI and a buzzer to alert operators if they overload.
Time/Versalift also showcased its Skybird T215I, which features a working height of 215 feet.
For more on these products and the company - which is expanding its plant to accomodate increased production - see the October issue of ALH.