Vertical masts: a growing market
As the vertical masts market grows in importance for rental fleets, AI looks at the latest models available on the access equipment market.
Vertical masts are continuing to grow in popularity, particularly in Europe, and have tended to be traditionally concentrated in mature markets. However, there are exceptions to that rule.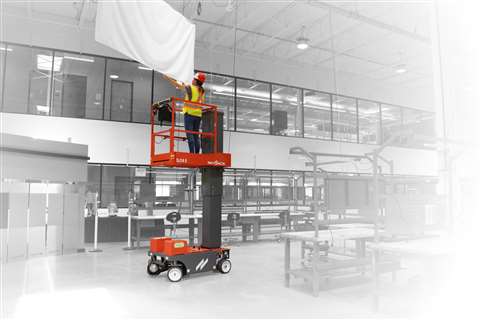 Mast lifts were also one of the first access products to be established in the Chinese market, along with large boom lifts for dockside applications, when the aerial platform industry started its rise in around 2005.
The maturing access market in China means that scissor lifts and smaller boom lifts became the dominant product types, with vertical masts retaining their presence, but as more of a niche product.
Nevertheless, access manufacturers of scissors and booms based in China are introducing greater ranges of vertical masts to their ranges, as the product type gains popularity in the domestic market and Chinese companies move into international markets.
Mature markets are embracing an increasing number of vertical mast products for a couple of reasons. Low level access is being more widely adopted to replace ladders and even podiums, not just in mature markets but emerging access nations too.
Larger vertical masts lifts are also seeing a rise in interest, with Haulotte estimating last year that the product type was seeing a 10% year-on-year growth, again primarily thanks to it replacing more traditional of access like scaffolding and mobile towers.
As is the case across much of the access world, the need for more efficient and cost effective equipment with greater capabilities and working envelopes is driving the change.
Environmental concerns are also key as mast lifts are often used inside in sound and pollutant-sensitive environments.
New vertical masts
Launched in October this year, the SJ12 E and SJ16 E are Skyjack's latest vertical mast lifts.
Modelled on the company's SJ20 E, the units are driven by dual AC electric motors which provides up to 30% improvement in duty cycles, meaning less charging, less power consumption, and a lower carbon footprint.
They also achieved a 70% reduction in hydraulic connections.
The SJ12 E and SJ16 E have working heights of 18 ft (5.48m) and 21ft 6inch (6.55m) under ANSI standards, respectively, and 5.66m and 6.72m under CE certification, respectively.
Both units feature the manufacturer's new green Eco label, hence the 'E' in the name, accompanied by an Eco Matrix that provides additional sustainability benefits over previous models.
Together with the addition of the optional Skyjack Eco tray and biodegradable oil, the products further reduce the overall environmental impact.
Expanding on the Eco label, Ken McDougall, president of Skyjack, explains, "Governments around the world are increasingly promoting a more sustainable agenda. One of their main focuses is through funding infrastructure projects and at the same time promoting sustainability through the enforcement of compliance with sustainability initiatives.
"That demand is down to contractors and they in turn pass on that demand to rental companies. As a result, what may have been seen as a box ticking exercise has become a real business issue.
"Skyjack has seen that through rental company questions for information on how our products meet that emerging need."
The aim behind the new models, adds Raf Bazzarella, product manager at Skyjack, was to also transform the range to make it more compact and lighter, making it suitable for a wider range of uses, from maintenance, industrial and construction applications.
As Bazzarella explains, "You'll also notice the top of the mast is now in line with the platform rails, which is beneficial for overhead work, especially where there are drop ceilings."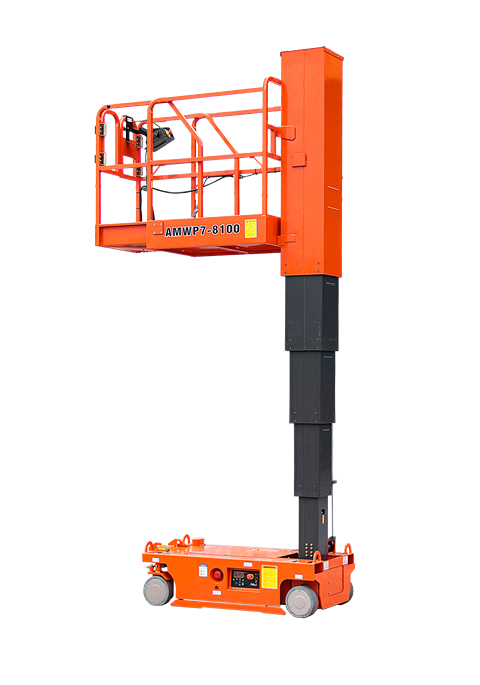 Both units now include a dual load cell overload system, located below the platform designed with both indoor and outdoor use in mind. Some of the other main features of the new models include 90-degree steering with zero inside turning radius. In addition, there is the onboard CAN enabled control unit and multi voltage 'smart' charger, and onboard diagnostics display.
Masts for warehouse applications
At the end of 2020 Dingli also launched a pair of new products in response to demands in warehousing and supermarkets, where aisles are becoming larger, taller and narrower.
The pure electric AMWP7-8100 vertical mast and OPT0507 stock picker are designed to offer a full green solution.
The telescopic AMWP7-8100 has a working height of 6.7m and a maximum load of 230kg.
The traditional hydraulic cylinder is replaced by an electric push rod for the lifting operation, meaning there is no oil. Equipped with brushless DC motor, the whole machine is maintenance-free and offers a lightweight structure, and flexible to move.
Dingli's OPT0507 stock picker is also oil-free and has a working height of 4.99m, maximum operator basket load 135kg, and can take up to 90kg on its upper material platform and 115kg on the lower material platform.
Again, the machine can be widely used in warehouses, supermarkets and other relevant applications.
The OPT0507 has a maximum speed of 4.8km/h, and is compact with a zero turning radius on the inner wheels and 1.3m on the outer wheels.
"Combined with their respective advantages, the two oil-free products will comprehensively serve the world's major storage supermarkets and material warehouses," says the manufacturer, and adds, "With the aim of electrification of the whole series of products.
"In the future, Dingli will continue to pursue the strategy of electrification and develop more green products."
Besides those products, the self propelled AMWP 5.6 and AMWP 6.8 models are also new to fulfil the requirements of its customers that are seeking lower access lifts.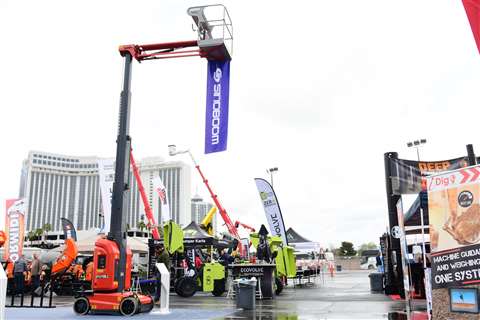 Vertical masts: market trends
Sinoboom has said that in terms of future vertical mast products, its team is developing lower working height models, in response to customer feedback.
"The trends we have identified in the sector are in the stock-picking area, and our aim is to develop products which help to improve operator efficiency, while enhancing safety in the working environment," added the company.
Its most recent model is the 10.3m working height ML10EJ, launched in 2019.
The unit has a 200kg platform capacity and 3.3m maximum horizontal outreach, which is designed to give greater access to areas which are tricky to reach. It also follows industry demands for compact equipment with its width of 0.99m, allowing it to pass through standard doorways.
Complementing this is a zero tailswing, again making it suitable for narrow corridors in warehousing and retail stockrooms.
As Alp Lift points out the customer base for its pusharound and powered vertical masts is varied and extends beyond customary construction-related activities to a range of installations to cruise ship maintenance, exhibition booth set ups and events.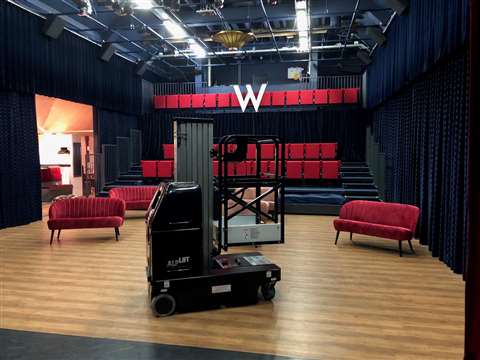 Above all, Alp supplies to the theatre and museum sectors.
"A vertical mast lift is a good alternative to scaffolds or ladders even if there's limited ground surface," says an Alp spokesperson.
And to this end, Alp offers lifts with working heights from 6m to 14m, and recently developed a self drive vertical mast with 12m working height that will be the tallest in its self propelled range, and is set to be launched at the beginning of January 2022.
Genie's latest is the GRC-12 Runabout, adapted to suit the needs of the Europe, Middle East, Africa and Russia (EMEAR) market, and was introduced in 2016. Featuring saloon doors with an extension deck to provide even easier access to operators carrying tools and materials, the GRC-12 is a durable vertical lift offering a working height of 5.66m, designed for tough indoor environments.
Turkey-based ELS Lift introduced its latest 6m vertical mast lift, the VM6, in 2019, and plans to expand its range in the near future.
The compact VM6 has a width of 0.74 m, a height of 1.4m when closed, and a total weight of 910kg, and provides easy passage through narrow spaces and can be easily stored without taking up space. With a lifting capacity of 240kg, the VM6 has a portable tool tray in basket, offered as a standard feature.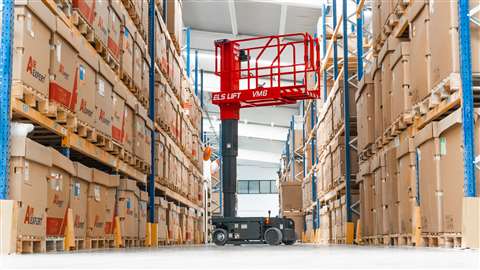 Complete with electric driving, the automatic closing saloon door system is an important safety feature, while the 50cm extension offered as standard.
"Sustainability, which is the focus of the whole world, is one of the points we pay attention to when designing new products," says an ELS spokesperson.
"With the awareness of our responsibility towards the safety of our employees and the environment, we are trying to improve our design and production stages. We believe that products equipped with telematics technology, which we plan to integrate into our products over time, to offer less power consumption, less waste, as well as to provide more efficiency, in particular zero emission, will contribute to the sector."
Snorkel expanded its line of telescopic mast lifts with two new electric drive models in 2017, the Snorkel TM12E and TM16E.
While vertical mast lifts are popular for their compact dimensions and low weight, there is demand for models with higher lift heights, and Snorkel is exploring this for future products in this segment.
In its current line, the TM12E can lift up to 227kg to a maximum working height of up to 5.65m and weighs in at 1,016kg. The largerTM16E can lift up to 227kg to a working height of up to 6.87m and weighs 1,105kg.
Both lifts feature an electric braking system contained within a fully sealed unit.
The efficient electric drive system delivers longer duty cycles, drawing up to 50% less amps than the hydraulic drive version and brings the additional benefit of a zero inside turning radius, making it ideal for working in confined spaces.
All electronic components are housed in a separate compartment at the rear of the chassis, underneath the new step. This all-steel compartment is designed to provide additionalprotection to the electronics, while still providing quick and easy access.
Vertical masts attachments 
JLG offers the Toucan range, with models ranging from the 8m T8E to the to 12m T12E+ T12EPlus. Most recently, the 8E and 8E XL were refreshed in 2016, with the introduction of the 10E-L and 8E-L.
Designed to be very compact when stowed, they are easy to maneuver and simple to use, with good up and over capability and working outreach, and suitable for use indoor and outdoor.
Low running cost and minimised maintenance requirements to reduce overall machine TCO are also features.
Back in 2015, JLG acquired UK-based low level access specialist Power Towers. Again, rather than concentrating on new models, there has been a focus on evolving the current product range, with new attachments for the Peco and Ecolift ranges.
One of the approaches Power Towers is also taking is through the formation of partnerships to help drive market understanding of low level access lifts.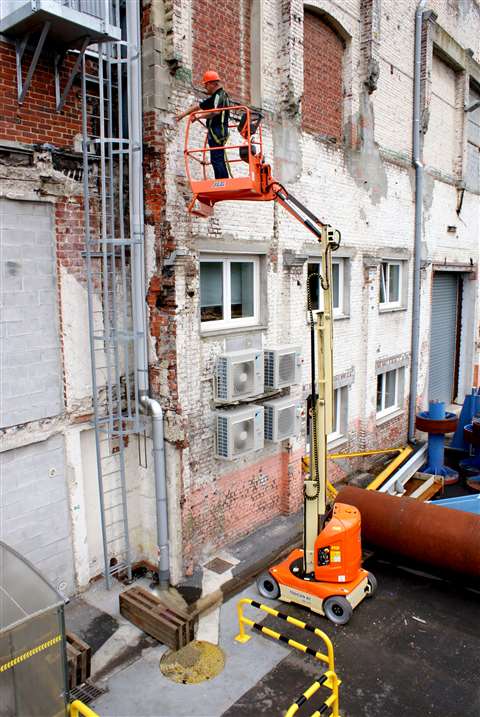 For example, in October last year the company announced a supply agreement with major European generalist rental giant Boels Rental.
Jonathan Dawson, managing director of Power Towers, says, "One of our key strategies is to find open minded customers that understand it's not just a bolt on to an existing fleet of products," comments Dawson.
Fellow low level access specialist Bravi is also taking the same tact when it comes to product expansion.
The manufacturer of the Leonardo HD has said it will concentrate on attachments and operator aids this year, rather than producing new models, as its line is now up to date.
*This article was first published under the title 'Persuaded by masts' in the November-December 2021 issue of Access International magazine. To download it and other issues, click here.