Video: Altas Copco showcases rebranded range
By Helen Wright07 June 2011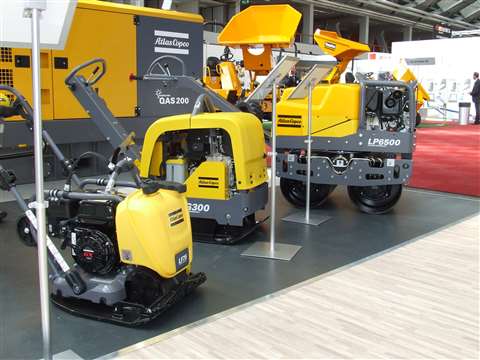 Atlas Copco showcased a comprehensive range of rental equipment including walk-behind power trowels, light compaction equipment, hydraulic tools, compressors, gensets and pumps at the International Rental Exhibition (IRE) in Amsterdam, as the company heralded a fresh approach to the market.

In April, Atlas Copco rebranded its basic site equipment such as light compaction, power, compressed air, hydraulic breakers and lighting tools from the Dynapac brand to Chicago Pneumatic (CP) in the US and to Atlas Copco in the rest of the world.

Dynapac remains the global brand for larger compaction machines, but will no longer sell light equipment under its name.

Jan Byrresen, product line manager for motor drills, breakers and handheld hydraulic equipment told IRN that the rebrand made sense from a customer and dealer standpoint and ensures that the light compaction equipment is available alongside handheld tools.

"We want rental companies to have a complete product offering, and the smaller compaction equipment, such as the forward plate compactors, rammers and trench rollers, fit into a completely different customer and dealer sector than those that want the larger compactors," Mr Byrresen said.

"We have launched a more common approach for all rental equipment," he added.