VINCI acquires Wah Loon Engineering
By Andy Brown06 April 2018
VINCI Energies, the VINCI subsidiary specialising in energy, and information and communication technology (ICT) services, has acquired Wah Loon Engineering from its management and Dymon Asia Private Equity Fund.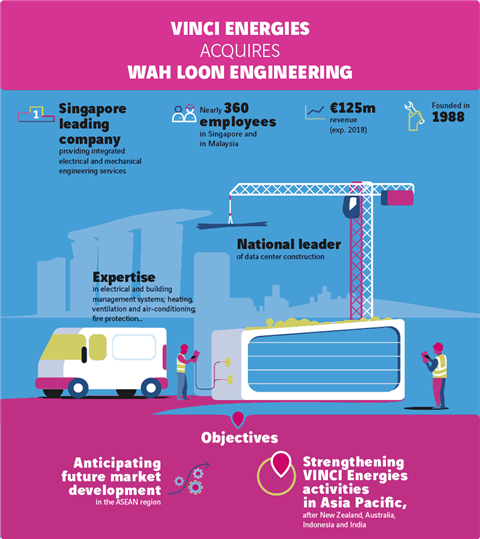 The company specialises in electrical and mechanical projects including design, supply, installation, testing, commissioning and maintenance.
With nearly 360 people – 315 in Singapore and 45 in Malaysia – it expects to generate €125 million (US$152 million) in revenue in 2018, mainly in data center construction, as well as industrial, commercial and high end residential developments.
This acquisition reflects VINCI Energies' strategy of deploying its business activities in Asia Pacific, where the group is already operating in New Zealand, Australia, Indonesia and India.
VINCI Energies Chairman and Chief Executive Officer Yves Meignié said: "With Wah Loon, we acquire the market leader of data center construction in Singapore. Thus, VINCI Energies strengthens its activities outside of Europe and will be able to pursue the development of its business in Asia Pacific."
In 2017, VINCI Energies has conducted 34 external growth transactions, corresponding to total additional full-year revenue of €1.6 billion (US$1.9 billion).