Vinci invests in hydrogen
By Andy Brown11 October 2022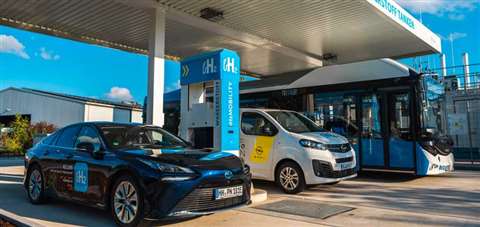 Vinci has participated in the latest financing round of H2 MOBILITY, raising €10 million (US$ 9.7 million) alongside the Clean H2 Infra Fund, the world's first low-carbon hydrogen fund.
The company is a leading player in hydrogen refuelling stations in Germany, with more than 90 stations in operation and the ambition to expand its network to 300 stations by 2030.
Vinci Concessions said that it intends to support H2 MOBILITY's development ambitions through its subsidiary Vinci Highways, Germany's leading highway concessionnaire with a network of over 200 km in operation.
This investment is part of Vinci's approach to developing its activity across the entire hydrogen value chain with initiatives such as the creation of Hyfinity, a business unit dedicated to EPC low-carbon hydrogen projects, or taking a stake in Genvia, a company developing high-performance electrolyzers for the production of low-carbon hydrogen.