Volvo CE: How tech will shape construction's future
Catrin Jones speaks to Carolina Diez Ferrer, vice president of future solutions at Volvo CE, on how the OEM is developing solutions to change the way construction uses technology.
Carolina Diez Ferrer, vice president of future solutions at Volvo Construction Equipment (Volvo CE), knows firsthand how the company is leveraging technology and is driving the push to improve efficiency and productivity on construction sites.
"We are always striving to explore new ways to support and meet the demand from our customers by providing solutions – and not just machines – that increase productivity, uptime, fuel efficiency, improve site safety and allow for even more sustainable choices.
"It is part of the reason we have been moving from being a machine-focused manufacturer through to a total solution provider – and to reflect that we have the ambition to double revenue of services by 2030," she says.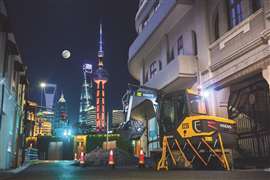 The ecosystems of companies are becoming bigger and more complex; a consequence of this is that services are increasing in importance.
So how does Diez Ferrer see the way in which tech can help to shape construction's future?
First off, she sees significant potential for new forms of construction equipment ownership, particularly when it comes to a subscription-based model.
"Subscription models are nothing new to us with the way we stream music and movies, but it's a new way of thinking about equipment ownership and allows customers to pay only for hours worked. It's pain-free fleet management that lowers costs and increases efficiency."
Electrification strategies
Many manufacturers in the industry, including Volvo CE, are also adopting electrification strategies for the future of their machinery. Diez Ferrer no longer considers it a niche topic.
"It is happening now, and we have the solutions available. But the big challenge right now, however, is not the technology behind these machines, but the co-creation needed to support them.
"We need to understand the complete ecosystem – from infrastructure, energy generation and charging systems, through to business models, regulatory frameworks and total cost of ownership. What is more, we need to work together on a mindset change. It's a complex model to solve. That is why we are working together with partners and leveraging our diversity."
Diez Ferrer says that Volvo CE thinks beyond technology, and this has been demonstrated by their recent move to publish the protocol for their 48v charging solutions. The OEM hopes that this will move the sector closer to an industry standard.
"When it comes to the technology itself," continues Diez Ferrer, "We also work with established experts to accelerate commercial solutions. Like our partnership with Samsung to develop battery packs, or our foundation of the joint venture Cellcentric, which is dedicated to the development of fuel cells across segments like heavy equipment."
Minimising environmental impact
Sustainable practices and technologies are becoming increasingly integral to the construction industry, as the sector seeks to minimise its environmental impact and contribute to an ecologically friendlier future. From renewable energy sources to energy-efficient designs, companies are striving to reduce their carbon footprint.
Volvo CE has a pledge to reach net zero value chain greenhouse gas emissions by 2040. "To get there, yes of course, we need electric machines to address the biggest proportion of our carbon footprint: our products. But it also requires looking closer than our product emissions and looking within at our own operations, manufacturing and materials."
Autonomous construction equipment is an emerging trend and Diez Ferrer says that it is a key part of Volvo CE's technology roadmap, along with electrification and connectivity.
"It's a fact that autonomous machines will increase safety in hazardous working environments and eliminate the possibility of accidents caused by human error," she says.
"They will also perform repetitive tasks more efficiently and precisely than a human operator and because machines will be operated in the most efficient way, customers will benefit from improved performance, productivity, fuel efficiency and durability."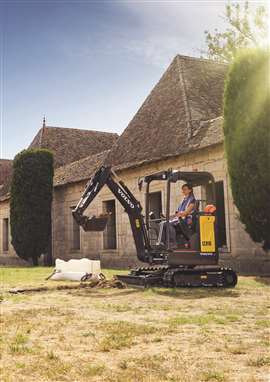 Equipment of the future
Whilst technology is increasing, Diez Ferrer issues a reminder that we are still very much on a journey. Volvo CE is exploring autonomous solutions for the future in tandem with solutions for today. As examples Diez Ferrer offers, "Solutions like our Volvo Co-Pilot intelligent assist functionalities or the semi-autonomous boom-down motion of our EC300E Hybrid. Our tele-operated and remote-controlled excavators are also operational today, with the world's first high-lift, tele-operated machine running over 5G, massively increasing the security for autonomous solutions."
OMEs around the world are seeking solutions to the challenges in the industry, both for today but also for the decades ahead. When it comes to exploring innovative solutions, the OEM leans on its concept lab.
"Our Concept Lab is a great way for us to test, learn and communicate about futuristic concepts together with customers and partners. We look 15-20 years into the future, but apply continuous lessons learned in today's commercial products and services," she comments.
"We also have a dedicated department, Future Solutions, which I'm proud to be leading, whose task is to explore and create the technologies, business models and solutions of the future."
The company is fast developing its vision for the future, exploring new technologies. "We are really looking to challenge the status quo," reveals Diez Ferrer. "There couldn't be a more exciting time to be an engineer."