Volvo launches EC550E excavator with Tier 3 engine
By Leila Steed01 February 2022
Volvo Construction Equipment (Volvo CE) has expanded the distribution of its EC550E crawler excavator, making the machine available worldwide.
One of two new 50-tonne crawlers released by the company in the past 12 months, the EC550E is one of the first Volvo CE has manufactured in this size class.
The excavator, which was first launched in Europe and North America with a Stage V/Tier 4-compliant enginge, has an operating weight of 54 tonnes with a digging reach of 12.2m and a maximum digging depth 7.7m.
Volvo EC550E engine
Now available with a Tier 3 compliant Volvo D13E diesel engine, the standard model offers 1,000 hour engine oil and engine oil filter change intervals.
Additionally, one of the machine's key features is a next generation electro-hydraulic system with Independent Metering Valve Technology (IMVT) and engine/pump optimisation that lowers engine rpm while optimising power. 
Volvo CE said incorporating IMVT means the excavator model "provides significantly more precise control compared to a conventional system and contributes towards up to a 22% improvement in fuel efficiency."
Kwangsuk Jee, global product manager at Volvo CE, said, "Customers in Tier 3 markets can get ready for up to 35% more productivity and 22% more fuel efficiency, combined with superb operator comfort and outstanding levels of uptime."
Also incorporating a long and wide undercarriage of the 60/65-tonne calibre, the model is said to offer a stability and a performance level akin to the company's 60-tonne class excavator models.
Jee added that, "Delivering the type of durability and performance more commonly expected from a 60/65-tonne machine, the EC550E is a crawler excavator which truly punches above its weight."
Designed for mining, mass excavation and large infrastructure projects, the EC550E has a reinforced boom and arm, and features boom/swing and boom/travel priority settings.  
According to Volvo CE, this enables it to fill a 35-40 tonne hauler or highway truck in just 4 to 6 buckets, providing "optimum pass-matching and high-levels of production at a low cost per tonne".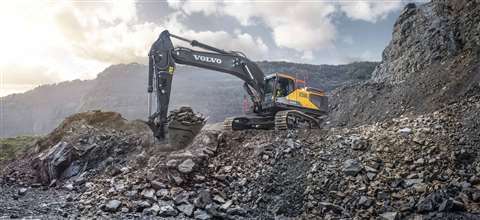 Volvo EC550E excavator attachments
The EC550E is available with a range of general and heavy-duty rock buckets that are suitable for use in abrasive conditions. 
The excavator buckets can also be used with the Volvo Tooth System, which enables machine operators to replace bucket teeth easily via a push and click functionality.
Excavator: digital technology
Technology-wise, the model includes an on-board weighing system that uses real time data to ensure the optimum amount of material is loaded, helping to reduce the under and overloading of haul trucks.  
Accessible via the machine's 10-inch touchscreen Volvo Co-Pilot display, the on-board weighing system is part of Volvo CE's Dig Assist set of apps.
The EC550E includes Volvo's telematics system, CareTrack, which helps customers to maximise machine uptime and reduce repair costs.
Excavator safety
In addition to the standard rear and side-view cameras, the excavator is also available with the optional Volvo Smart View - which uses front, rear and side cameras to provide a real-time, overhead view of the machine – for improved safety, particularly when operating in confined spaces.