Volvo's electric excavator and wheeled loader
By Leila Steed11 April 2019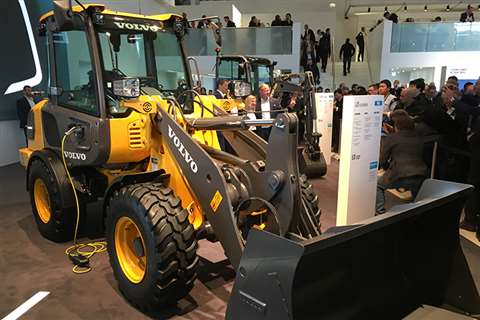 Volvo Construction Equipment (Volvo CE) has launched an electric compact excavator and wheeled loader at Bauma in Germany.
The Sweden-based company launched the ECR25 excavator and L25 wheeled loader as part of its new electric compact machine range.
Volvo CE said the models deliver zero exhaust emissions, significantly lower noise levels and reduced energy costs. In addition, it said the machines have improved efficiency and less maintenance requirements compared to their conventional counterparts.
Scott Young, Volvo CE director of electromobility and automation, said, "As the machines are electric, no particulate matter, nitrogen oxide or carbon dioxide are released into the environment. This, together with the fact that they have extremely low noise levels, makes them ideal for use in cities and densely populated areas."
The ECR25 electric excavator is fitted with lithium-ion batteries and an electric motor that powers the hydraulics. According to Volvo CE, the machine's batteries store enough energy for the ECR25 to operate for eight hours on its most common applications, such as utility work.
In addition to lithium-ion batteries, the L25 wheel loader incorporates two electric motors, one for the drivetrain and one for the hydraulics. The company said the model's battery capacity will allow it to operate for eight hours on regular applications, such as light infrastructure work, gardening, landscaping and agriculture.
Both machines have on-board chargers for overnight charging via a regular household plug socket. The company said a fast charging option, requiring more powerful grid access, will also be available.
Melker Jernberg, president of Volvo CE, said, "We are driving leadership in electromobility and delivering sustainable solutions that support customer success. The electrification of construction equipment will produce cleaner, quieter and more efficient machines – this represents the future of our industry."
The two machines are the first of the manufacturer's new electric range to be shown. Volvo CE said a number of machines will be tested by customers in pilot projects before production of the electric compact excavators (EC15 to EC27) and wheeled loaders (L20 to L28) begins in mid-2020.