Wacker Neuson hit hard by pandemic
By Mike Hayes and Steve05 November 2020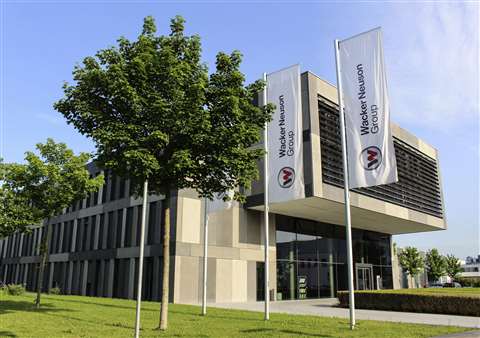 Wacker Neuson has released its financial results for the third quarter of the year, showing a 16.5% fall in revenue, compared with the same period in 2019.
The Munich-headquartered light and compact equipment manufacturer said it was "clearly feeling the effects of the Covid-19 pandemic" as it reported revenue in the period of €390.8 million, compared with €468.2 million during the same period in 2019.
The company reported total revenue for the first nine months of 2020 to be €1.19 billion, 16.4% down on the same period in the previous year.
On a positive note, the group saw a significant reduction in its net financial debt, gearing at 22% at the end of Q3.
The largest business region for Wacker Neuson is Europe, where Q3 revenue was 8.2% below the 2019 figure, with Germany, Austria and Switzerland – where revenue remained at 2019 levels – having a stabilising effect on the business.
Furthermore, in the UK, Wacker reported a significant increase in business, with a strong demand being seen for the company's Dual View dumpers.
Revenue from the Americas, however, decreased by 43.1%, with dealers in the region, according to Wacker, unwilling to invest in new business, with the pandemic still hitting business hard.
Describing the significant fall in revenue, compared with 2019, Martin Lehner, CEO of the Wacker Neuson group, said, "We again experienced a significant decline in revenue in the third quarter related to the coronavirus pandemic, albeit less pronounced than in the second quarter. However, we are also seeing positive changes in our industry that have been triggered or accelerated by the shift in circumstances. Through the crisis, our customers have become much more open to the possibilities of digitalization and electromobility in particular."
The group now expects to achieve its Strategy 2022 goals approximately one to two years later than originally planned.