Warren Access purchases new Isoli units
By Lindsey Anderson15 August 2014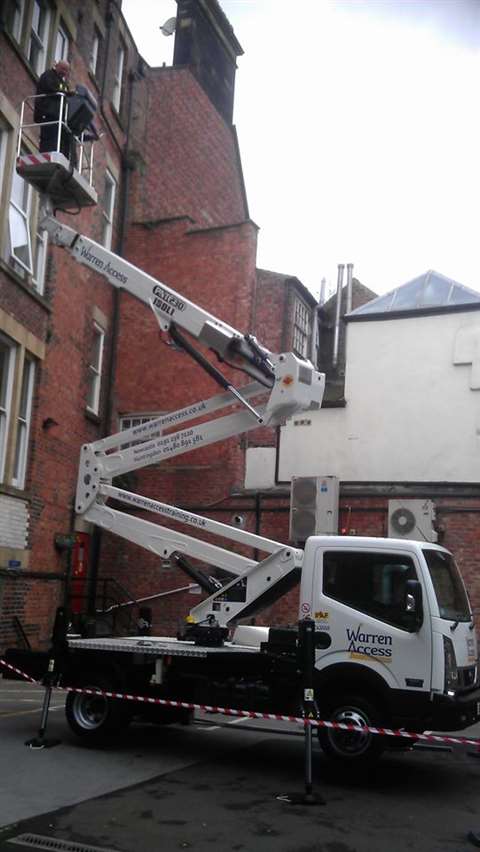 Warren Access Ltd has purchased two new Isoli units. The UK rental company took delivery of an Isoli PNT 230 and an Isoli PNT 205 NH.
"Having looked at the current market for truck-mounted platforms, we decided on the Isoli range due to their compact working footprint, ease of use and value for money," said Warren Access managing director Graeme Warren. "Another great advantage to us is the fact that the sales and technical support, national product backup and the stock of parts are all in the UK and covered by the IAPS Group. This is a key benefit to us to ensure that the machines will have as little downtime as possible."
The PNT 230 and 205NH are ideal for a wide range of applications including; infrastructure installations, utilities, surveying, window cleaning, gutter clearing and other building maintenance. Key features include a dual pantograph boom configuration, which enables up-and-over reach combined with the ability to work at lower heights without tail projection.
The Isoli PNT 230 offers a 22.5m working height on a 4.5 tonne short wheel base Nissan Cabstar. The 230 offers a two person plus tools cage capacity of 230 kg.
With the platform at full capacity, the PNT 230 offers 9.1 metres outreach with outriggers extended, or 6.1 metres with outriggers retracted. Alternatively, with a lighter load of 120 kgs, the boom can offer 11.3 metres outreach with outriggers extended.
The double-articulated telescopic boom has zero tail swing and offers parallel lifting up to 12 metres.
The unit also features dual controls, 180-degree cage rotation, automatic cage levelling, anti-collision, outreach limit and over-load warning systems.
The Isoli PNT 205 NH has a dual pantographic lift with a telescopic upper boom. The unit weighs 3.5 tonnes and can be driven on a standard car license. Features include a non-slip platform floor, operator counter and a toolbox under the platform deck.
The Isoli PNT 205 offers a working height of 20.1m and 8.9 metres of outreach, along with a 230kg capacity platform and 180 degrees of rotation.
"The 23m PNT 230 has a short wheel base offering fantastic height and reach for a vehicle of this size," Warren said. "Both machines offer a new feature to our fleet – the dual pantograph – which has zero tail swing, superb height, outreach and manoeuvrability. The 20m PNT 205 has a gross vehicle weight of just 3.5 tonnes which makes it a perfect vehicle for our self-drive hire market as it can be driven on a standard car license. Feedback from our customers and operators has been great and they are certainly getting noticed around town."