Wärtsilä and Aggreko cooperate on power plant
Aggreko and energy specialist Wärtsilä are cooperating on a new modular power plant that could supply up to 100 MW.
Aggreko will now supply Wärtsilä's newly launched Modular Block solution, which is a pre-fabricated, modular, and expandable plant that uses Wärtsilä's medium-speed 32 and 34 family engines, which can run on natural gas or biofuels.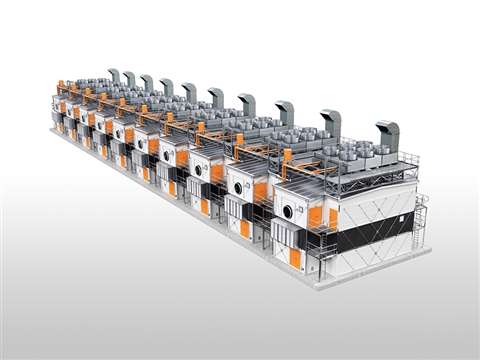 Suitable for both permanent and temporary applications, the power plants can be erected in weeks and expanded to accommodate increased energy needs, and then relocated at the end of a project.
Wärtsilä said the use of its medium-speed engines would bring "a totally new efficiency dimension to the temporary power market", resulting in "major savings" in fuel consumption and operating costs and reduced greenhouse gas emissions.
Stephane Le Corre, Strategy and Commercial Development Director, Aggreko, said; "We recognise the growing market for distributed generation, and the increasing need for new thermal power solutions that are cost-comparable with permanent generation.
"We see a number of potential applications for Wärtsilä's Modular Block on projects of typically 5-10 year duration, with its ability to achieve high levels of efficiency, while still being redeployable".
Jean Nabb, Director of Strategic Partnerships at Wärtsilä Energy Business, said; "Aggreko is the global leader in mobile, modular power, and the Wärtsilä Modular Block solution opens up exciting new opportunities both for stationary and temporary electricity generation of up to 100 MW".
Under the agreement, Wärtsilä will provide the technology and design for the power generation equipment, with Aggreko supplying the system through its Rental and Power Solutions divisions.