Water powers concrete removal
By Lindsay Gale22 April 2014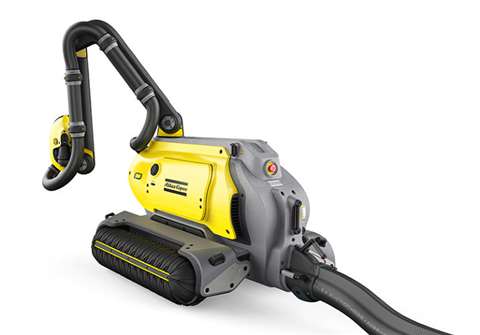 A hydrodemolition robot concept is currently being developed by a student at Umeå Institute of Design in Sweden, Omer Haciomeroglu. Called the ERO (short for erosion), the machine uses a high pressure water jet to erode concrete from around rebar and collects the cement, sand and aggregate and then separates it for recycling. Any rebar in the concrete structure is left in situ for reuse.
The machine is electrically powered and actually generates some of its own energy - as the vacuum sucks the waste down a tube, the moving air generates electricity that is reused by the machine.
Although currently just a concept, Omer is reported as being in discussion with a number of manufacturers and should these be successful a prototype could be produced and undergo testing within three years - the Atlas Copco branding pictured is therefore somewhat misleading.