WDS keynote: Industry's destiny is in its own hands
Keynote speaker Richard Vann, managing director of the leading decontamination, dismantling and demolition consultant the RVA Group, had a positive message for delegates at this year's World Demolition Summit.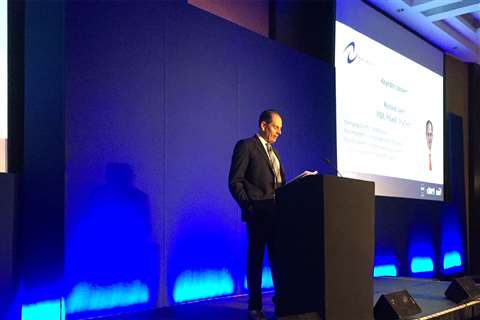 Richard took to the stage in front of more than 400 delegates at the first hosting of the event in London and the biggest audience since it was launched in 2009.
Drawing on more than 35 years of experience covering over 700 projects worldwide, he told the audience: "You have a massive window of opportunity.
"It is the chance of a lifetime as long as you act quickly and positively."
In particular, he mentioned the 120-plus coal fired power stations that are scheduled to come down in the next five years.
"There are probably 20-25 contractors able to carry out the work.Who knows? If the average power station takes two and half years to demolish, you do the maths.
"Add in chemical and petrochemical sites and oil platforms and the picture starts to become slightly overwhelming."
However, Richard added that the industry itself has to make things happen rather than sitting back and waiting for new business.
"Working internationally should not be an insurmountable barrier, but the demolition industry does not always seize the opportunity. For instance, with explosives engineers there is very little evidence of training or bringing in new people."
He also told delegates: "Always apply the health and safety standards you currently use as your own baseline, and know which jobs to walk away from as well as which ones to go for. You only get one chance to get it wrong, so be careful in your choice of partners."
Richard's conference presentation was the first of 11 taking place at the summit, with the World Demolition Awards dinner following in the evening.
The event was organised by Demolition & Recycling International magazine in co-operation with the European Demolition Association. Headline sponsor was Volvo Construction Equipment.