Weak housing demand prompts turnaround plan for Skanska and Ikea's modular homes arm
By Neil Gerrard03 February 2023
Weakening demand for affordable housing has prompted Skanska to launch a turnaround plan for its modular homes arm BoKlok, which it runs in partnership with Ikea.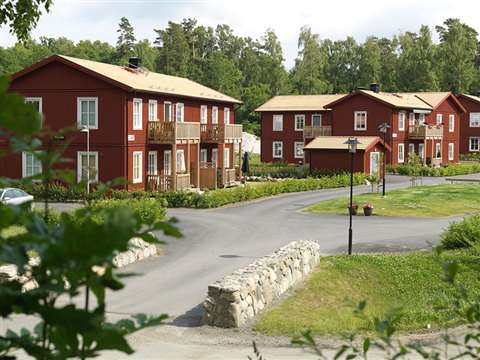 The news came as Skanska unveiled its full-year financial results for 2022. The Swedish construction company said that sales in its residential development business "contracted significantly" in the fourth quarter of the year (October to December 2022).
Skanska's affordable homes arm BoKlok, which sells modular homes "as close to a flat pack as you can get" in conjunction with Ikea, saw its customers struggle with increased interest rates, high energy prices and inflation.
Skanska said performance in BoKlok was "weak", with a negative result for the fourth quarter and the full year.
Revenue in its residential development division fell to SEK 775 million (€68.5m) in the final quarter of 2022, down from SEK 3.6 billion (€318 million) in the same period a year before. Operating profit dropped to SEK4 million for Q4 2022 (€353,000), representing an operating margin of 0.6%.
It has launched a turnaround programme and appointed Lars Jonson as new business unit president. Skanska said initial measures would focus on responding to tougher market conditions and operational stability.
Skanska hailed a "solid" 2022 for the group as a whole. It reported revenue for the year of SEK 161.6 billion (€14.3 billion). Operating income in 2022 was SEK 5.8 billion (€512 million), representing an operating margin of 3.7%. For the full year, its order book stood at SEK 162.7 billion (€14.4 billion).
Looking at the outlook for the next 12 months, Skanska said it expected weak construction market conditions across Europe in both residential and non-residential building, while civils would remain stable in Europe and weaken in the UK. In the US, it expected strong market conditions in non-residential building and civils.
President and chief executive Anders Danielsson said, "Construction had a successful fourth quarter and full year. The strategy, with a clear focus on selective bidding and commercial management continues to support strong performance.
"We have managed material shortages, cost escalations and other market headwinds well. Revenue picked up during the year, enhanced by inflation and positive currency effects. Order bookings were impressive in the fourth quarter and have been robust for the whole year. The order backlog is at a historic high.