WEB EXCLUSIVE: Hitachi's first ten years in China
By Chris Sleight13 January 2009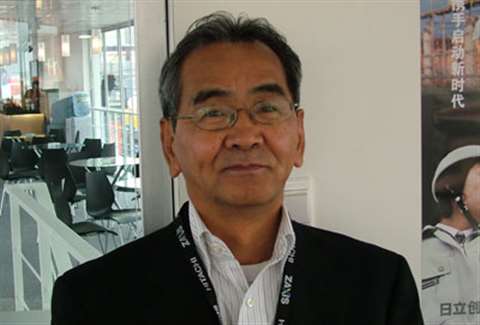 Today China is the biggest market in the world for earthmoving machines like excavators and especially wheeled loaders, but ten years ago things were very different. Although many saw the potential for sharp growth, it was an unremarkable market a decade ago, with only 6000 excavators sold per year.
But annual growth that has at times exceeded +50% per year has seen the Chinese equipment market mature at breakneck speed. Today it is by far the largest market in the world in unit terms, with sales in 2008 put at just over 300000 construction machines, including (depending on the definition) more than 60000 excavators and 175000 wheeled loaders
That is a big enough market for many to enjoy a share, but in any boom it is the companies that got in before things took off that often enjoy the strongest positions.
Proving this point is Hitachi Construction Machinery, which used last year's Bauma China exhibition in Shanghai to mark its first ten years in the Chinese market. As managing director of the company's Chinese operations, Toru Sakai, pointed out to iC, this long track record has indeed delivered a significant market share.
"When we started in 1998, our sales numbers were around 400 or 500 machines, but now it has jumped up to around 9000 units. That is a big achievement," he said.
But of course there is more to it than getting in early. According to Mr Sakai, Hitachi's ability to supply more than just a standard 20 tonne excavator has been a big key to its success.
"One of the biggest reasons for our sales achievements is that we are expanding the product line. In the early days we only sold six excavator models in China. Now we have 21 models, which includes ten models of what we call 'application machines'. That includes high reach demolition machines and long reach machines for foundation excavations."
Maturing tastes
As Mr Sakai's comments indicate, the Chinese market is not just growing in volume terms, but also maturing in terms of its sophistication. The days when you could sell a 'one size fits all' machine and hope for success are a thing of the past.
"There's a clear spread to bigger and smaller machines. That's different to the rest of Asia, where 90% of the market is 20 tonne machines. That's because 20 tonne machines are very convenient, you can use them on both big and small jobs."
"We are seeing more applications in China. There are a lot of demolition projects, and customers are using a lot of breakers now. There are also a lot of excavators being sold into the scrap market. With the cost of fuel today, there is a growing demand for electric scrap handlers for those sort of applications," said Mr Sakai.
But it is still early days, with these so-called 'application machines' accounting for less than 1% of the market in China. According to Mr Sakai, the most popular variants are the long reach excavators used to dig basements and foundations - in China the standard practice is to excavate even deep pits form ground level, rather than sending people and machines down into them.
But one area that has taken off is mini excavators. From an almost non-existent market just five years ago, figures from Off-Highway Research say sales in china are currently around the 20000 machine-mark, having enjoyed several successive years of +30% to +40% growth.
Hitachi's experience has been that there are specific requirements in the Chinese market. This meant it got off to a false start when the mini excavator market started to take off because it was trying to sell the type of compact machines that are popular in Europe, North America and Japan. However, it has since rectified this error, as Mr Sakai explained.
"We only have one model in China, a 5.5 tonne machine. Even though we're only selling one model, our market share is around 18%.
"We introduced that model in 2006, and it was developed here in China for sale exclusively here. In other markets customers look for short-swing machines, but not popular here in China. They need reliability and high performance.
"Originally in China we tried to sell our global model, a short radius machine, but we couldn't sell any. That's why our factory here developed a model specially for this market, and that's how we've achieved an 18% share," he said.
Toughest challenge
With a strong position established in the excavator segment, Hitachi is now looking at China's massive wheeled loader market, and is tentatively introducing machines. Although the sector is huge, it is fiercely competitive and cost-focussed, and Mr Sakai is not expecting Hitachi to sell high volumes any time soon.
"It's very difficult to sell wheeled loaders here. The current demand is about 130000 or 140000 units, and 99% is supplied by domestic manufacturers. Komatsu is producing here, but only very limited numbers.
"Prices are very low - almost half the usual price. We have to choose customers carefully and target applications like ports and pipelines, where they need our machines for fine control or zero downtime. So our customer base is limited and it's very difficult to grow sales," he said.
Future
Whatever the wheeled loader sector holds for Hitachi, Mr Sakai sees growth continuing for years to come in the excavator segment.
"This year (in 2008), we expect the market to be around 48000 excavators. In 2010 it will be around 60000, although the growth may slow. In any case, we think that the market will reach about 80000 excavators around 2013 to 2016 and 100000 excavators by 2020. That has been estimated by the Hitachi institute, taking into account various growth factors," he said.
It is interesting to reflect that having been present in China for a decade it will be another ten years or more before Hitachi sees the market reach its ultimate maturity. But with demand forecast to more than double in that period, it sounds like it will be worth the wait.