Weber MT highlights benefit of petrol powered compactors
By Murray Pollok25 June 2021
German compaction equipment manufacturer Weber MT is now offering petrol versions of many of its diesel powered vibratory plates, highlighting their lower cost and decreased particulate emissions compared to diesel.
The company's petrol engine powered soil compactors now range from the small CR 1 Hd – with an operating weight of just over 90 kg - to the new CR 9 Hd E, which weighs 670 kg and delivers 100 kN of centrifugal force. The CR 9 Hd E is equipped with Honda's GX 630 engine.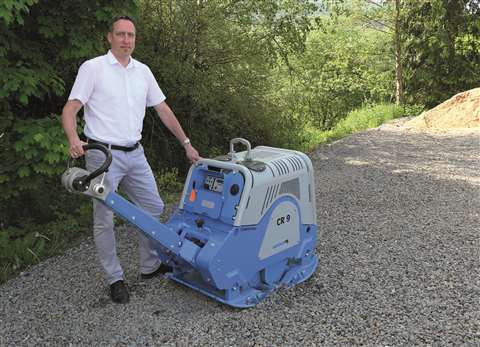 The manufacturer said forward travelling vibratory plates have long been equipped with petrol engines to keep their weight down, but said petrol engines also offer benefits on hand-guided soil compactors of greater size and weight.
"Compared to diesel machines, gasoline-powered engines are substantially cheaper to buy and do not require you to have a discussion about harmful soot particles", said Mike Homrighausen, Export Sales Director at Weber MT.
"We rely on the highly advanced and tried-and-tested gas engines made by Honda. We benefit from their comparatively simple maintenance and Honda's exceptional service network."
Homrighausen added; "The field of application for hand-guided soil compactors is expansive. Vibratory plates such as the CR 9 Hd E are largely used wherever ride-on rollers are too large and unwieldy or great maneuverability is of the essence. Better yet, their compaction performance is generally on par with that of the rollers."