Webuild makes tunnel breakthrough on Grand Paris Express line
By Neil Gerrard03 May 2023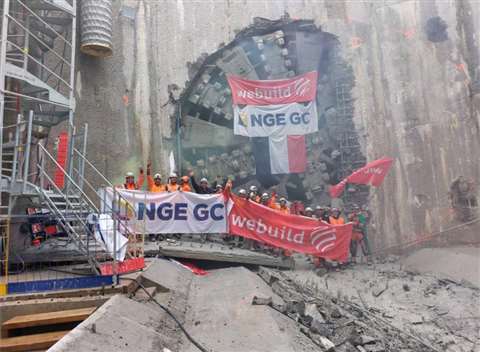 Contractor Webuild and local partner NGE have celebrated the breakthrough of tunnel boring machine (TBM) Mireille, marking the completion of a tunnel on the €35 billion Grand Paris Express project in France.
TBM Mireille completed the first 5.3km of the tunnel work on line 16, connecting Chelles with the municipality of Sevran.
The breakthrough means that 83% of the work on lot 2 of the project is now complete.
Meanwhile another TBM, dubbed Houda, is due to complete the other half of the tunnel by arriving at a shaft from the opposite direction later this year.
Webuild and NGE are digging 11 out of a total of 29km of tunnels for line 16. They will also build four of the 10 stations on the line: Aulnay-sous-Bois, Sevran-Beaudottes, Sevran-Livry and Clichy-Montfermeil.
The line will serve the Paris department of Seine-Saint-Denis. Trains are expected to carry an estimated 200,000 passengers every day.
The Grand Paris Express project overall will extend the French capital's metro and light rail network by 200km with 68 stations, to improve connections between the centre of the city and the periphery.
The first section of between Pont de Sèvres and Noisy-Champs was due to be ready by 2020 but has now been pushed back to 2025.