Wemo environmental Genie orders
By Euan Youdale10 August 2017
Anticipating an increased demand for environment-friendly aerial work platforms, Eichenzell-based rental company Wemo-tec near Fulda in Germany received delivery of the first units of an order for nine hybrid, electric and bi-energy Genie machines in July.
Adapted to both indoor and outdoor applications, these 2-in-1 models include three hybrid Genie Z -60/37 FE articulating boom lifts, three all-electric Genie Z-33/18 articulating boom lifts and three Genie GS -3369 BE bi-energy scissor lifts. Working heights of these models range from 11.84 m to 20 m, and horizontal reaches range from 5.57m to 11.15m.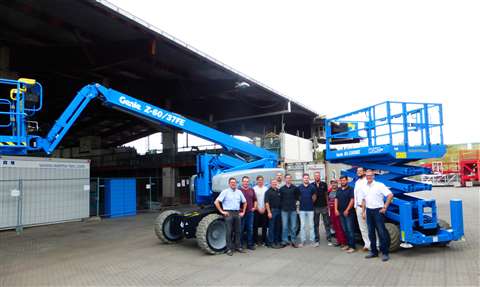 Right: Joachim Nießner, managing director Wemo-tec and his team. Fourth from left, Ehrenfried Hillenbrand, technical service representative, Terex AWP.
Wemo-tec offers 550 different models of access and lifting equipment. Genie machines represent about half of the company's aerial platform fleet. "We have a good long-term relationship with Genie and have great trust in the quality of the innovative Genie machines. Consequently, we have every reason to believe in these environment-friendly models. We are expecting them to play an essential part in our company's development," says Joachim Nießner, Managing Director, Wemo-tec GmbH.
He continued, "Customers' attitudes are changing, and the question of emissions and noise levels is an increasingly important factor when choosing machines. These days operators have much stronger views about avoiding working in a polluted, noisy environment. But at the same time, being restricted in terms of performance is out of the question."
Ecology, air pollution and respecting the environment are not new trends, but real issues that have been gaining ground for several decades. This first applied to prohibiting smoking in offices and public places, then restricting the access of diesel and older generation petrol cars and vehicles to city centres, and more recently, the introduction of electric and hybrid vehicles. "Today, attitudes and restrictions are evolving, and naturally, be it rental customers, machine operators or for that matter, anyone working on sites where heavy equipment is involved, people are already much more sensitive about the quality of their working environment," said Mr Nießner.
He continues: "In urban areas in Germany, people have become very particular about the noise and pollution caused by machinery. So much so, that these days it's now common practice to install insulated panelling around buildings as noise protection."
However, emissions and noise restrictions are not the only considerations. "On some of the larger projects here, health and safety requirements already go as far as requiring people to hold a hand rail when descending steps and stairs or not to walk around with a cup of coffee in their hands. Therefore, although we've already seen the introduction of certain new restrictions recently, it's still in the early stages, and in the relatively short-term, we can only expect requirements to get much stricter