WernerCo invests $6.8m in UK and Vietnam
By Euan Youdale17 June 2016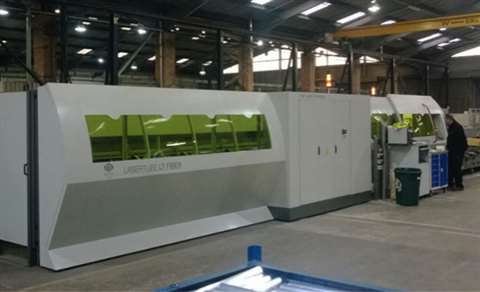 Ladders and access tower manufacturer WernerCo has invested more than $1.8m at its Maldon UK facility.
At the heart of the investment sits the installation of a new BLM Adige fibre optic laser cutter, used for cutting treads for WernerCo's fibreglass stepladders, stiles for box section extension ladders and BoSS access tower components.
John Darby, WernerCo UK manufacturing engineering manager, said, "The state of the art machine from Italy was an investment of over $1.2m. The investment in this second laser cutting machine prevents any need for outsourcing and provides an increase in capacity to support growth.
"The new machinery enables cutting for the D-Rung ladder stiles and GRP (Glass Reinforced Plastic) treads and horizontals. More critically this investment improves and streamlines production processes, following the production lines moving from our Belper site."
More than 25000 square feet of storage buildings have been added for component storage, including a 10000 square foot dedicated extrusion store.
In November 2015, WernerCo opened a National Distribution Centre in Burton Upon Trent, which saw the move of finished ladders from Maldon and Belper. As a result, some 36000 square feet of production space in Maldon has now been relayed to optimise production efficiency and to absorb the volume from the Belper closure on course for later this year.
More than $100000 has been invested in nitrogen generation, which is used in the aluminium laser cutting production, making the company self-sufficient in nitrogen generation. In addition the company has also improved external storage, general facilities and parking.
Nick Platt, EMEA VP operations, said, "It's been great to see the investment in manufacturing in our UK business. We are looking forward to seeing the results of the investments and improvements at Maldon in terms of quality, speed and efficiency at the plant. We're also investing in global operations, like Vietnam, where we have just installed a new $5m aluminium extrusion machine, predominantly to supply ladders for the UK market."