West coast style trailer from Rogers
By Laura Hatton19 January 2015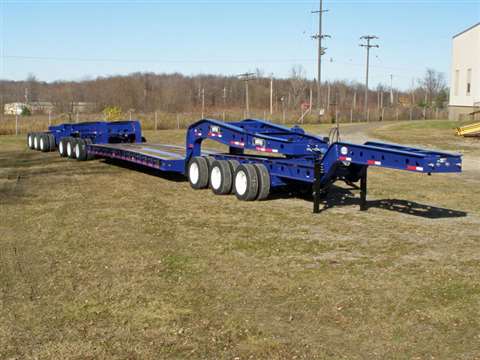 Trailer manufacturer Rogers has produced an 80 US ton (73 tonne) capacity modular trailer for a specialized hauling company in Houston, Texas, USA.
The 13-axle unit includes a 3+3+3 trailer and a 4-axle tractor. It is fitted with 'west coast style' suspension to distribute weight to the back six axles using a rocker shaft in the rear of the trailer, the manufacturer said.
"The air ride suspensions of the first three axles are attached to a sub-frame that 'rocks' inside the rear frame; and it balances, like a teeter-totter [see-saw], with the back three axles of the 'stinger' or bogie," a company spokesperson said. In addition, the suspension system has an air-height adjustment system that is controlled by hand valves.
Each axle of the main trailer is fitted with shut-off valves and chains, the manufacturer said. Additional Air Weigh electronic scales have also been installed on the trailer, stinger and jeep dolly to measure individual axle loads.
The trailer has a mechanical detachable gooseneck with a 5 metre swing clearance. Instead of the traditional Rogers hook and shaft connection, the new trailer uses a "pin and paddle" method of connection, a company spokesperson added.
The trailer has a 9.1 m long and 3 m wide platform deck, which can be increased with an additional future deck insert, the manufacturer said. The trailer is fitted with LED lights and electronic back-up alarms. The total weight, including the jeep dolly, is 29.4 tonnes.