What are the benefits of new construction technology?
By Christa D. Fairchild24 June 2022
Christa D. Fairchild, Product Marketing Manager of CM Labs looks at the benefits of new technology in construction.
Call it Industry 4.0, IoT, or The Digital Era. By any name, new technologies are here to help automate tasks, monitor performance, support real-time collaboration, accelerate processes, and, above all, deliver levels of efficiency, safety, productivity, and profitability that were not previously attainable.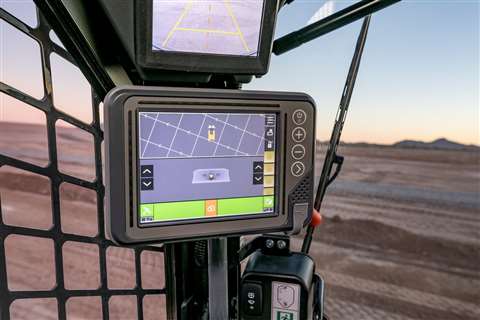 Within the construction industry, site sensors are used to monitor air temperature, noise levels, dust particulates, air quality, and other conditions to ensure worker safety. Cloud-based collaboration, drones, robots, AI, autonomous vehicles, and data collection apps are in daily use, while applications for virtual reality/augmented reality, 3D printing, and more, are revolutionising construction as we know it.
When it comes to operators of all types of equipment, on-board computers, sensors, touch screens, hi-resolution cameras, and GPS guidance have forever changed the in-cab experience. As today's heavy equipment becomes ever more sophisticated, an equally sophisticated skillset is required. In many respects, this is one of the biggest hurdles to widespread hi-tech adoption in the construction sector.
What are the risks of technology in construction?
Although the benefits and competitive drivers are clear, new technology has not yet reached the stage of seamless, frictionless adoption. There are a number of factors to consider.
First of all, the hidden costs. New construction equipment comes with a hefty price tag; and when factoring in costs of implementation, training, insurance, and other expenses, it can be overwhelming for some. What's more, lost revenue associated with any downtime can influence owners or managers who find it difficult to justify pulling an operator and/or equipment off-line for training or to train others.
User buy-in also needs to be considered. When it comes to adopting new technology, healthy skepticism is in order. However, many senior-level construction managers did not come up through the ranks using new technology, and may be inclined to reject it out of hand.
That's why it's helpful to make sure an advisor is on hand to answer questions about where, when, or how to begin the process of evaluation and implementation.
Finally, it is crucial that sufficient training is provided. New tech confers a competitive advantage only if its users are skilled in its deployment. This often raises a chicken-and-egg conundrum for tech-averse companies—how to learn new skills without first-hand experience. The good news is that training solution providers are accelerating operator learning with their own brands of innovation and technology.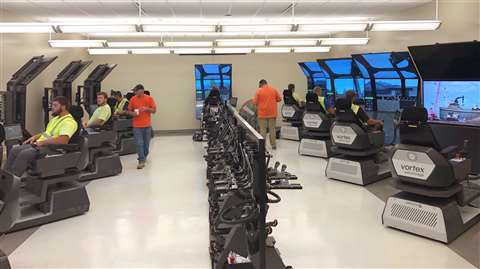 Technology training
Costs related to productivity, injury, and turnover can be hard to quantify. However, such expenses are very real and all too common. Research from the Center for Construction Research and Training (CPWR) shows that:
Nearly half of workers comp claims come from workers with less than a year of experience
About 30% of these claims are from workers on the job for less than 6 months
24% of construction workers are injured in their first year on the job
Equipment operator training lays the foundation for a seamless technology transition; however, the baptism-under-fire way of teaching skills can be dangerous and traumatic. A director at a local vocational school told us that at least one student per semester quit in the midst of field training due to stress. The best outcomes result from top-of-the-line training technology in combination with especially knowledgeable instructors.
Leveraging simulation in your training program allows operators to gain familiarity and confidence in a safe, low-stress environment before taking control in the field. "Everything revolves around safety," explains IUOE Local 926 Safety and Training Director Anthony Nash. "Our members come to learn proper set up, what to look for, and what to anticipate in the field. Experiencing these things in a controlled setting under an instructor's watchful eye saves significant time, money, and possibly lives."
Simulation-based training
Simulation-based instruction builds a foundation for students before being exposed to the complexity and stress of the job site. What's more, simulators are shown to accelerate learning, advance the student's success rate, and improve safety – all while lowering training costs.
Repeating stressful scenarios on a heavy equipment simulator mitigates risks while allowing operators to safely experience the consequences of the job. Familiarity breeds success and experience gained through simulation-based training not only improves safety and performance – but also provides the confidence to learn and perform under high-pressure situations.
In her 2017 paper, "Learning from Errors" psychologist Janet Metcalfe draws a close correlation between mistakes and learning. Based on her research, Metcalf argues that students benefit significantly more from making and correcting mistakes than from avoiding them. Training simulators allow operators in training to experience limits without consequences. In the field, mistakes often prove catastrophic – on the simulator they are valuable lessons learned.
How can simulators prepare operators for success?
Training simulators have advanced by leaps and bounds over the years. In fact, today's simulators mirror the operator experience to the point where even veteran operators liken the experience to that of an actual machine. When engaging the hydraulics, swinging the arm, or lifting the bucket filled with dirt, trainees can see and feel the corresponding machine reaction in the controls and in the seat.
The next best thing to in the field training, simulators challenge trainees with a variety of increasingly challenging scenarios and conditions (lighting, terrain, weather, exercises) that are not always practical or possible with traditional training methods. In addition to enhanced learning, simulators are shown to be a cost-effective alternative to field training. Simulators save fuel and equipment maintenance costs while allowing equipment to remain in production.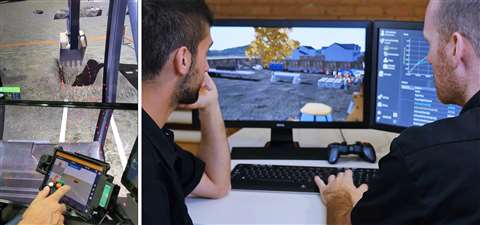 Early exposure to next-generation technology using a simulator provides a window into new sophisticated workflows, processes, and skillset adaptations, even before working on the actual equipment. Operators and management can work together to tweak and test how the technology affects construction and operations, without risking safety, productivity, or equipment.
Because students on simulators repeat exercises more quickly than their counterparts in the field, they learn faster. Many industry veterans who have implemented simulation-based training in their curriculum have stated that the difference is more than significant. In reference to training concrete pump operators on the remote box, former American Concrete Pumping Association (ACPA) President and Board Member, Dennis Andrews concluded, "Mastering the remote box could take up to two months in the field; but takes just two weeks on the simulator."
Wheel loaders designed with Grade Quality Simulators (GQS) are embedded in CM Labs simulator training and assessment software, providing real-time visual feedback while digging or leveling. Contractors wanting to improve productivity with Trimble® Earthworks Grade Control Platform can connect the tablet directly to our Excavator Simulator and get an immediate sense of true worksite ROI.
Time on the simulator is not only about reinforcing muscle memory and refining technique, it is also about managing change and dealing with stress that can come with it. Real-world parameters, tactile simulator seats, and instruments, are immersive and mimic so well that even 2-3 hours on a simulator can be physically exhausting. Simulators can also be a great tool to socialize new equipment to the team – everyone gets to try out, fail safely, virtually, all the while helping to adjust their perceptions of how new technology is shaping their jobsite.
Benefits of construction technology
Built-in performance metrics can track everything from collisions and contacts with powerlines, personnel, vehicles, and other hazards. This provides succinct, immediate, and objective feedback to avoid such dangers on the physical construction site.
As an added bonus, simulators also reduce wear and tear on equipment during training. It is well known that novice operators can be hard on the machinery they are training on. With simulation-based training, equipment lasts longer, and will push back the time for expensive machine service hours and extend equipment life.
For first-time adopters, this will be challenging, as new technology represents a paradigm shift on several levels. While there are a variety of approaches to adoption, by far the most effective involves a hands-on experience that allows users to experience the benefits directly.