What are the key user requirements for truck mounted aerial platforms?
By Euan Youdale06 June 2022
When it comes to truck mounts, large or small, there is more emphasis on customisation than many other aerial product types but the emphasis on flexibility, service and safety remains the same.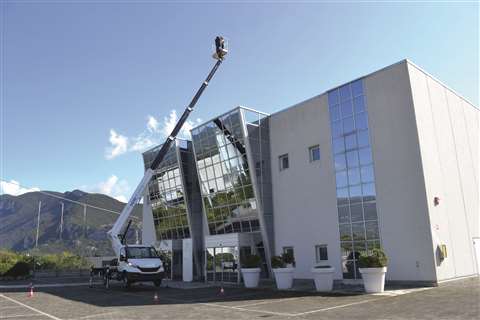 Summing up the requirements of customers of truck mounts, Italy-based CTE says there is a need for intuitive platforms, with as much lateral outreach as possible, while working height is no longer a deal breaking aspect.
"Our analysis and customer profiling shows that normal operations are usually done below 20m of working height and maximum outreach, with 120kg -140kg in the basket."
Access equipment: rental customer requirements
A rental fleet manager's main requirements are for easy and problem-free units, where price, return on investment (ROI) and total cost of ownership (TCO) are key factors.
As CTE adds, for the end user, the availability of fast and nearby service points are the main deciding factors when choosing a brand. After that, effective fleet management systems, remote monitoring and automatic maintenance scheduling are a major plus for customers.
"Overall, as performances are similar throughout the brands, customer care, perceived quality and smoothness and ease of use are the driving factors for purchasing a new MEWP," adds the manufacturer. (Read more about CTE's equipment later in the feature).
Off course, not all truck mounts operate below 20m working height and some of the most well known truck mount manufacturers produce much higher units. Yet, even Bronto Skylift, renowned for its very large platforms has been moving into the more compact realm.
The S35EM is the latest model from Bronto Skylift, launched in 2019 and offering 25m working height and 29m outreach.
It brought the manufacturer into a new area, considering its historic range of models, with heights up to 112m. Bronto's S35EM has proven popular and the company is just about to deliver eight units to the UK's largest acces rental company Nationwide Platforms, with a special customised chassis.
Improved safety
They will be mounted on a Scania L320 cab, which puts the machine on the same level as other vehicles used on city streets, by greatly increasing road safety through improved visibility. This is achieved with the cab's City Safe Window, which significantly increases the driver's ability to see and avoid pedestrians and cyclists in city environments.
Bronto says that matching the S35EM to the Scania L320 low cab City Safe chassis has created one of the safest aerial platforms available today.
However, the manufacturer, which is celebrating its 50th anniversary this year, will continue focusing on large models, and therefore the consideration of electric and hybrid units remains on the back burner. "Naturally we are investigating this trend among others, and it will most likely have an impact in the larger truck-mounts too in the future," says the company.
As with the recent S35EM order from Nationwide, most technological developments to Bronto's equipment comes in tailored products for specific customer needs, mainly around chassis configurations.
An example of customer-driven innovations is the manufactuer's 200kg cage winch that is specifically designed to lift telecom antennas. "These may seem small developments, but sometimes they make the greatest impact to the end user's life".
There has also been some small improvements in the Bronto 5+ control system. For example, the simultaneous jacking allows faster set up, as all four jacks will extend and level up simultaneously instead of working in sequence front or rear.
Bronto adds, "As we operate in a truly global environment, we see a variety of requests related to different carriers and chassis. Partly due to local habits and price levels, but also due to reasons related to environment and infrastructure in the worksites."
Access equipment markets
According to Bronto, North America now seems to be ready for larger units too.
This has been demonstrated by the recent sale of the first 104m (341ft) truck mount in North America. Bronto's S341HLA is to be mounted on a local Mack chassis and will become the highest truck mounted platform in the continent.
Another 104m related development is in the S104HLA delivered to Finland-based rental company Jalo&Jalo, that has a new type of Volvo chassis, which is more compact and with better axle weights to travel in the Nordic countries.
The Volvo 12×4/*8 chassis' compact configuration makes it easy to drive on worksite conditions and in regular traffic. The cabin is in its original place, whereas the older S104HLA required the cabin to be lowered in front of the front axle, making the front approach angle smaller.
The gross vehicle weight is 63.5 tonnes, and importantly the axle weight does not exceed 12 tonnes.
This is beneficial when operating in Sweden as an escort vehicle is not neccesary, reducing operating costs. This also opens the door to Norway, because the older S104HLAs were too heavy to drive on Norwegian roads.
Sustainable truck mounts
Environmental developments remain near the top of most manufacturers' lists. Palfinger's next product launches at Bauma will be in the 'green' arena, says the manufacturer.
The company's aims are towards smarter, sustainable lifting solutions, namely reducing CO2 emissions by adapting its products to the fast-growing e-mobility sector. "This will be at the centre of this year's Bauma, where new products and solutions will also be presented when it comes to hybrid or all-electric products".
The company's latest offering in this area is the P 370 KS E, which combines a diesel engine with an electric drive system, offering the performance of a diesel engine at lower operating costs through fuel savings, and significantly quieter at less than 62 decibels, and lower CO2 emissions. (See more information about this in the Green Energy supplement, soon to be published by AI).
Diesel powered truck mounts
Palfinger Platforms has also been developing specialist products in the diesel-powered area.
One of them is the extreme All-Terrain Unimog vehicle, which the company has equipped with an 18m, 23m or 25m working height platform.
The vertical stabilisers spaced 2.4m apart, within the width of the vehicle, enable jobs in narrow, difficult-to-access forest tracks with very short set-up times.
The large stabiliser stroke of 1,300mm allows for work on slopes, for example railway lines, power cable maintenance, water protection and forestry and municipal applications.
With a lateral outreach of up to 16.9m, it is possible to reach different spots without repositioning the vehicle and multiple movements can be activated at the same time via the operating panel in the basket.
Equally new is the improved version of a more conventional product, the 30m working height P 300 KS. However, it too has been redesigned to offer a better customer experience through improved ergonomics, comfort and ease of maintenance.
Increasing the performance of existing offerings is also a constant requirement for OEMs.
For example, Palfinger's material handling Powerlift-System, with maximum 300kg payload, has seen its performance data improved to offer 10° movement to the left and right with full jib maneuverability and operations at 8m working height without stabilisers.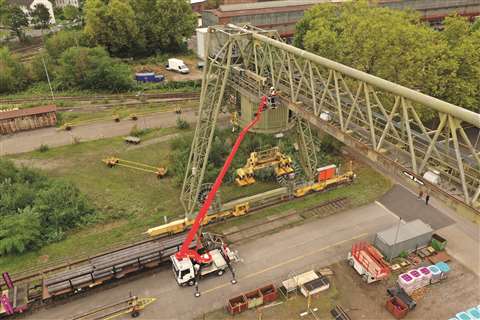 There is also an enlarged control box, as well as improved slope angle and thanks to a fully variable stabilizer system, it can be positioned precisely on uneven terrain with 730mm stroke and up to 5° of inclination.
Other improvements concern the electro-hydraulics for Palfinger's compact Smart Line, which have been made more efficient.
The conversion of Smat Line chassis to new Euro 6 emissions standards was also an important step when it comes to sustainability.
Truck mounts: stability improvements
Today, Italian manufacturer Socage says there are two key messages in the truck mount sector; safety and ease of use.
Based on this, the manufacturer has introduced its new range of Speed models with automatic stabilization, which it claims as somewhat of a revolution in the market for units up to 3500kg GVW. The automatic stabilization allows an increase in productivity in less time and under safe conditions.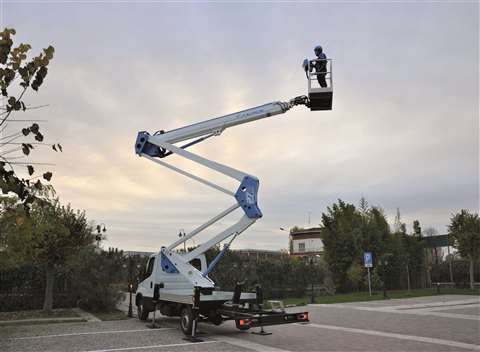 Socage has also used the launch of the Speed series to improve operation, security and operator assistance.
The first models in the Speed series are the forSte 14T Speed, the forste 15T Speed and the forSte 27D Speed. The 14T is a telescopic platform with automatic stabilization as standard. It can provide up to 14.1m height and 9m outreach with a 230kg basket payload.
The 15T provides up to 15.2m height and 10 outreach, with a basket load of 230kg. As well as automatic stabilization, it is fitted with automatic closing, including from the basket. Coming back to customer requirements, Socage says the reduced overall weight of the unit allows a greater degree of customisation as required.
The double-articulated 27D is the next generation of the pre-existing 25D Speed and is designed to be easy-to-use. It has a 12m outreach with a basket capacity of 230kg.
Taking new customer requirements a step further, CTE has been turning its mind to green energy too.
Its new hybrid system allows you to work with the truck, when the engine is switched off, thanks to the lithium battery pack, which includes the 48V - 90Ah battery pack, offering an autonomy of four hours of continuous work.
There is a three-phase 48V 3000 rpm motor option with 4.5cc pump. It is regulated with an inverter to manage energy consumption and an onboard 230 Volt-50 Hz/20 A battery charger, offering complete recharge in 4.5 hours.
Electric truck mounts
Another option is a removable 230V/50Hz electro-pump. It is used to connect the electric pump device electrically and hydraulically.
CTE says full-electric truck mounted platforms will follow in the near future, following the launch in 2016 of the B-Lift 17 E, equipped with a 500Ah battery pack that guarantees 1.5 hours of continuous work and is rechargeable using a standard AC plug.
Moreover on its ZED and B-LIFT ranges the company has implemented S3 EVO, its real-time performance management system.
Multitel Pagliero has also been introducing customer-focused systems, notably its Multitel MUSA system, which optimises movement and performance based on load, boom rotation and position of the outriggers.
Incorporating this system Multitel launched a new truck mount for the European market in February.
Mounted on a 3.5 tonne truck, the new MZ 250 articulated model has a working height of 25.1m and an horizontal reach of 14.3m.
It is equipped with a 250kg capacity self-levelling basket and has a below ground reach of -2.5m outreach.
Described by the Italy-based manufacturer as "ideal for rental", the MZ 250 features a GPS-enabled telematics, which monitors the machine's status and runs diagnostics remotely.
Greg Moore, Multitel general sales manager UK and Ireland, said, "Popular features include the extremely compact chassis with a 3m wheelbase and excellent turning circle, which allows access to areas many other machines cannot reach."
Supporting documents
Click links below to download and view individual files.
Multitel GVW MZ 250 truck mount
The new 3.5 tonne GVW MZ 250 from Multitel Pagliero, launched in Frebruary. (Photo: Multitel)
Size: 1.4 MB
Click to download