What is coming next in the evolution of mini excavators?
The excavator is construction's most popular machine, known for its agility and versatility. Catrin Jones looks at what could be next in its development.
Excavators are, by some considerable distance, the most popular construction equipment type in the world. Crawler excavators account for 26% of global sales, mini excavators 25% and wheeled excavators 2%, meaning that excavators account for 53% of all equipment sold.
They come in all sizes, as well; from mini excavators of between 0-6 tonnes, midi from around 6-10 tonnes, and standard excavators from 10-45 tonnes to large excavators of over approximately 45 tonnes. The largest excavator in the world is reported to be the Caterpillar 6090 FS, which has a weight of 1,102 tonnes.
Remarkable evolution of the excavator
Mini excavators account for a quarter of global equipment sales and have grown enormously in popularity in recent years. These agile machines have undergone a remarkable evolution, redefining the way construction tasks are approached, particularly in confined and complex environments.
Modern technology is significantly enhancing the capabilities of mini excavators. Integration of GPS systems and telematics aids in precise positioning and efficient navigation, while advanced hydraulic systems provide finer control over operations. Manufacturers are creating smarter machinery to meet the demand of the mini excavator sector, resulting in rapid technological advancements.
Due to the growing importance of this equipment segment, this article will focus specifically on mini excavators.
What new technology is available?
Bobcat recently introduced a new telematics system that allows users to remotely access critical information about their machines from any device, anywhere and anytime. With this new tool, users can monitor their machines' health, track important data and enhance their machines' maintenance, security and performance.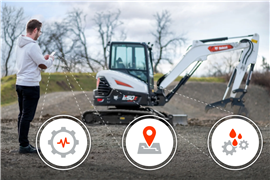 The system, called Machine IQ, is available in English, French, German, Italian, Spanish and Dutch.
Bobcat says that one of the most significant benefits of Customer Machine IQ is the ability to receive notifications about both planned and unplanned maintenance. Users can review utilisation reports to optimise their machines' performance, track fuel consumption and reduce idle times.
Technology is advancing quickly and Sam Matthews, mini excavator product support specialist at Caterpillar, agrees that technology is influential in working more effectively.
Caterpillar's Cat 2D E-fence keeps the front linkage within a predefined work area to avoid hazards like traffic. 2D E-fence uses data from position sensors to automatically stop motion when the front linkage reaches the defined boundaries.
The company says that the technology has increased benefits such as improved safety, lower costs and decreased stress.
"The Cat 306 CR, 308 CR and 309 CR mini excavators can be equipped with Ease-of-Use E-Fence which automatically constrains machine motion to within operator pre-set boundaries for ceiling, floor, wall and swing," says Matthews.
"Operators work confidently and efficiently by avoiding structures overhead, underground, in front, or to the left or right of the machine. Setting height limits using E-Fence Ceiling helps operators avoid obstacles such as powerlines, ceilings or tree limbs. Fibre optic cables and underground utilities are protected by the defined depth limits established with E-Fence Floor."
Matthews emphasises that structures in front of the machine are protected by E-Fence Wall, and where the mini excavator is working next to live traffic, walkways or loading trucks, E-Fence Swing can be used to avoid these areas.
"With E-Fence, operators work within set boundaries and minimise job costs from repairs and downtime due to equipment damage and fines from damaging utilities or other structures. It allows them to work more efficiently and safely with fewer ground personnel required around the work area," Matthews adds.
Mini excavator trends
New models are constantly replacing old ones in the segment, such as the new Kobelco SK34SR-7 and SK39SR-7 replacing the previous SK30SR-6E and SK35SR-6E. The OEM says that they offer increased engine performance, improved operability, an updated cabin interior and easier maintenance.
Engine output has been increased from 18 to 19kW, and the size of the bucket cylinders from 65 to 70mm, resulting in a 15% increase in bucket digging force to 32kN. In addition, the boom cylinder bore has been increased from 80 to 85 mm for improved lifting capacity.
"We're always listening to our customers to understand what they need from their mini excavators," said product manager Wesley Elverding.
"The introduction of the new SK34SR-7 and SK39SR-7 demonstrates how we are developing our mini excavator technology and machine concepts to better suit the needs of our operators as well as more demanding jobsite conditions."
For contractors, one of the appeals of mini excavators is that their performance is not compromised by the machine's small size.
"In the case of the SK17SR-3E, the machine is not only competitive in terms of arm crowding force at 8.7kN and bucket digging force at 15.2kN, but its newly designed and comfortable interior also makes it particularly attractive to operators," said Peter Stuijt, product manager at Kobelco.
Zero tail swing is currently a significant trend in the mini excavator market. As construction projects increasingly take place in confined and urban spaces, the demand for compact machines that can manoeuvre efficiently without compromising on performance has surged.
This trend underscores the industry's focus on optimising productivity while minimising the impact of construction activities on surrounding areas, making zero tail swing excavators a sought-after choice for modern construction projects.
Robert Husar, product line director for mini-excavators, Bobcat EMEA, highlights how zero tail swing works in Bobcat's mini excavators.
"In terms of positioning the machine, especially in tight places, we have machines that have a zero overhang – which is the traditional zero tail swing."
Husar goes on to add, "Where we pride ourselves is that we take it to the next level up, to what we call zero house swing. This is where the front corners of the upper structure and cabin do not go over the tracks. So, you no longer have to worry about the front or the back of the machine.
"In addition to this, we also keep our offset cylinder on the left-hand side. In doing so, we have a so-called unicorn effect. If you are digging in full offset position to the left, our offset cylinder is retracted, which means that you do not get the cylinder sticking out."
Space is at a premium in densely built cities and, like other OEMs, Hyundai is working towards efficient machinery in compact areas.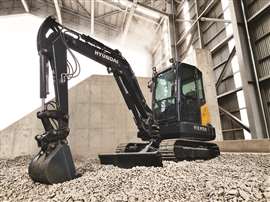 Hyundai Construction Equipment Americas revealed three new models in its HX-A series of compact hydraulic excavators. The Hyundai HX35AZ, HX40A and HX48AZ excavators were among the new machines featured in Hyundai's exhibit at this year's ConExpo-Con/Agg 2023.
The HX40A and HX48AZ offer standard load-sensing hydraulics, while the HX35AZ and HX48AZ incorporate zero-tail swing for operation in confined spaces.
"Contractors will find the right combination of power, performance and operator safety and comfort in Hyundai's three new compact excavator models," said Adam Ford, product manager, Hyundai Construction Equipment Americas. "These machines represent a new generation of compact excavator technology."
Alternative power solutions
Electric mini excavators offer undoubted benefits, not just because they offer lower CO2 emissions and zero exhaust emissions, but because they run quietly too.
But are they, as a new research paper suggests, "a better choice" than diesel in the current market?
That's what a senior technology analyst at research and consultancy company IDTechEx, Dr James Jeffs, has claimed.
IDTechEx has predicted that the electric construction machinery market was about to "take off" with a 10-year compound annual growth rate (CAGR) of 37%, although this is starting from a small base, with electric machine sales at a low level.
Mini excavators are one of the biggest construction machine markets by volume and the report suggested that their small size and lighter workloads made them an ideal fit for electrification.
A new addition to the sustainable excavator market is the SY19E from Sany. The machine is battery-powered, reducing pollution and noise emissions, and is described as compact and versatile. It weighs 1.8 tonnes and features an electric motor that delivers a peak output of 15kW, as well as an efficient load-sensing hydraulic system.
Commenting on the launch, Leigh Harris, business development director of Sany UK says, "The SY19E is a game-changer in the mini excavator market. We believe that it will set a new standard for performance and efficiency in this segment of the industry."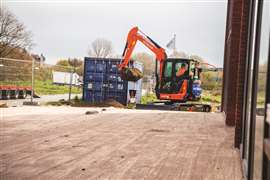 Hitachi Construction Machinery recently launched new electric models in the excavator segment, including the ZX55U-6EB mini and ZX85-6EB compact, as part of its Zaxis range.
The OEM says that the ZX55U-6EB provides reduced noise levels, enhanced efficiency, fewer maintenance requirements, and less downtime than conventional models, and can be operated using battery power (via 39kWh lithium-ion batteries) or via a wired connection to a CEE 400VAC 3-phase power source.
Case Construction Equipment is also said to be developing "one of the industry's most diverse and comprehensive mini excavator lineups". This includes the launch of two all-new electrified mini excavators.
The CX15EV and the CX25EV both feature a lithium-ion battery, charged either by the 110V/220V on-board charger, or via an external rapid charger that is said to be able to charge the machine within 90 minutes.
Depending on the type of work, Case says that the CX15 EV and CX25 EV will provide enough power to work through a full eight-hour day. In addition to delivering the core benefits of electrified construction equipment – no emissions, reduced noise, and reduced lifetime maintenance.
"Mini excavators are ideal for electrification because they go through varied work cycles throughout the day," said Brad Mace, product manager at Case Construction Equipment.
"Between access to power and the fast-charging capabilities of the machine with both on-board and external technologies, these machines deliver excellent runtimes and are sure to be ready to take on any task."
Mace goes on to add that Case's focus is on delivering a complete operator experience, even in some of the smallest machines that they manufacture.
"The attention to detail and operator satisfaction is built into each one of these battery-powered units," said Mace. "Another area where we've showcased this is in the ability of these electrical units as attachment platforms.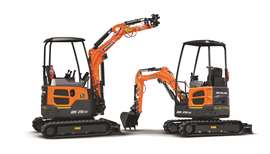 "These are full-featured, fully electric powerhouses built for work in all environments and operations, and operators will recognize that quality when they sit at the controls and dig in," he added.
Mass produced electric excavator
Earlier this year, Develon (formerly known as Doosan) released an updated version of the DX20ZE-7 mini excavator. The South Korea-based company said that this is the first mass-produced electric-powered excavator manufactured by Develon.
The 2-tonne excavator combines low-noise and zero emissions with the features and performance enhancements that are found in the next-generation DX-7 Series family of mini-excavators.
"The DX20ZE-7 is designed to meet a growing demand for electric machines," says Stephane Dieu, Excavators product manager for Europe at Develon.
"As compact equipment, such as mini excavators, has a higher tendency to work in cities and residential areas, where it has proximity to other workers, it has a great advantage over the diesel counterpart due to less noise and no emissions."
Komatsu Europe followed their medium-sized hydrogen concept excavator release with the launch of a new 3-tonne mini excavator model to its range of electric-powered construction equipment.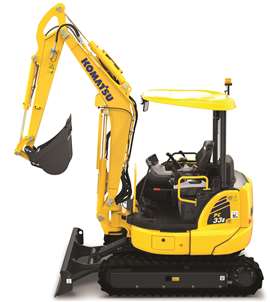 The PC33E-6 has a short tail design and is fitted with a 17.4 kW electric motor, a 35 kwh lithium-ion battery, and powertrain components that come with a five-year warranty.
Suitable for use inside and outside, the model produces zero emissions and is described as significantly quieter than Komatsu's compact PC30MR-5 diesel model.
Komatsu said its investment in electric and hydrogen power technologies is part of its plan to achieve carbon neutrality by 2050.
Legislation and regulations worldwide require contractors to specify sustainable, low-emission and low-noise construction methods in urban job sites. This leads to increased exploration of electric and alternative power options.
The last decade has demonstrated just how quickly trends can change in construction. It will be interesting to see how the mini excavator segment will develop in the near future and whether its meteoric rise in popularity will continue.